Yongwhan Shin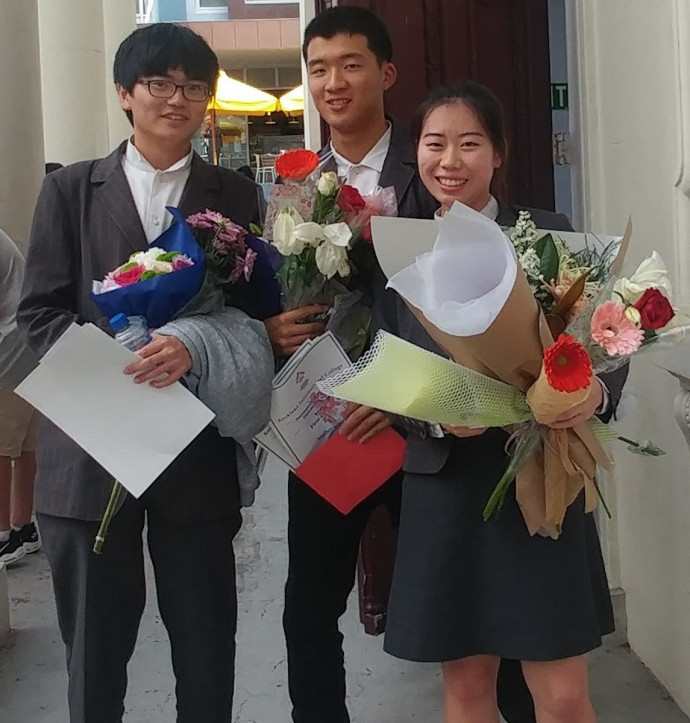 Yongwhan (centre) with his school friends
Yongwhan is studying many areas of learning under the International Baccalaureate Diploma Programme but his primary focus is in the area of science. He heads to Melbourne in July to attend Youth ANZAAS.
Hello! My name is Yongwhan and I'm from Auckland International College (AIC). I am very thankful for the Talented School Students Travel Award as it has allowed me to attend Youth ANZAAS in Melbourne with eight fellow Kiwi students. After seeing the vast array of exciting science experiences in line for us, I can't wait to attend this event.
Under the International Baccalaureate Diploma Programme at AIC, I chose to study chemistry, physics, mathematics, and english for my higher level subjects with japanese and history for my standard level subjects. Although this rather wide variety of subjects seemed daunting to me at first, I was later glad that I had the chance to pursue many different interests whilst holding a primary focus on my STEM subjects. As I garnered a genuine interest for these areas of knowledge, I ventured out to learn more at events such as Olympiad training camps. These events introduced me to fellow STEM students who shared with me not only their extensive knowledge in their respectively preferred areas of science but also their nuanced passion and motivation which has shaped me greatly until today.
Although my initial connection with STEM was because of its ability to explain the underpinnings of the world around me, doing research in laboratories with scientists and attending science events like Youth ANZAAS has motivated me to try and solve problems with the understanding I gain. Whether it's analysing research data to develop our understandings of biological diseases, or working in a medical clinic to support those with disorders, I believe that I'm now prepared to use my passion to bring a change in others' lives.
When I'm not experiencing science first-hand, I enjoy teaching others and sharing my passion like my peers have done with me. Aside from my academics, I also am really into sports and music: the Los Angeles Lakers, guitar, the All Blacks, piano, Arsenal – I love them all.
I'd like to thank the Talented School Students Travel Award for helping me and many others to add another chapter to our journeys in science and encourage other students to keep this award in mind.