Lip Sync Challenge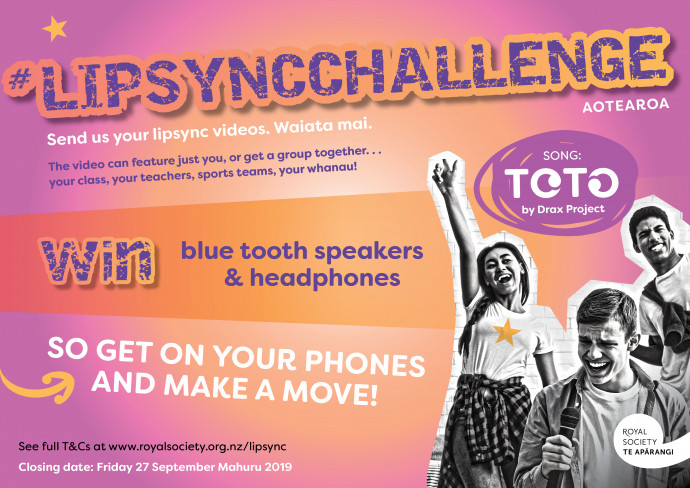 We want you and your friends to be a part of our #lipsyncchallenge video!
Have you ever wanted to star in your own music video? We want to give you the chance.
Grab your phone and send us a video of your own #lipsync performance to the song 'Toto' by Wellington's Drax Project. You can rock out on your own, with a group of friends, your sports team or drama group...or you could even get your teacher in front of the camera.
You can send us a 10 second clip of your favourite line or the whole song!
If your performance is selected to feature, you will win Bluetooth speakers!
This epic video will be shared across our social media to celebrate the young people across Aotearoa and their achievements with Royal Society Te Apārangi.
Need some inspiration? Check out the Six60 lipsync video.
Be inventive and have fun with your videos. But before you get started, be sure to check out our health and safety rules below.
How to send in your videos
Record your video (any part of the first 2:10 min of the song) and send it via email to annabel.hay@royalsociety.org.nz
If your file is too big to send, please use wetransfer to send your videos to the email address above.
Closing date is Friday 29 November 2019 so get filming now!
Health and safety
Health and safety is paramount. Don't do anything reckless or dangerous while filming. Please be safe! No illegal activities. Respect others at all times.
If your video is selected your parent/guardian will be sent a permission slip to allow us to use your image.