29th World Congress on Diet, Nutrition and Obesity 2020
This conference aims to share new ideas and technologies amongst professionals, industrialists, and students from areas of nutrition and research divisions.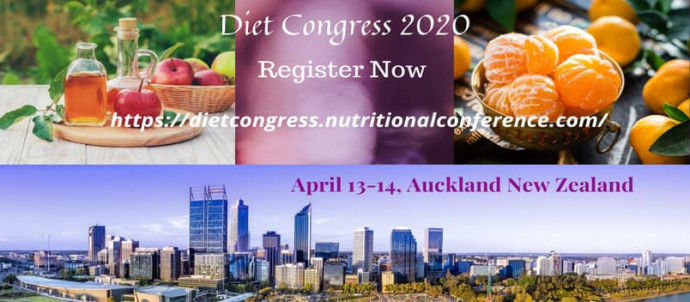 This premier event offers networking opportunities with international colleagues, and focused sessions that will feature cutting edge presentations, special panel discussions, and livelier interaction with nutrition health specialists; doctors; researcher holders; young researchers; students; delegates; nutritional doctors; dietitians; nutritional experts; professors; faculties; and more.
About conference
The "29th World Congress on Diet, Nutrition and Obesity" states to give an opportunity to the experts in the field of nutrition and health sciences to examine the most recent progressions and difficulties in the field. This congress is highly intended to give a potent stage to nutritionists and dietitians, different specialists and students employed in the field to consider and share their encounters before an expansive global meeting of people.
SPEAKER
29th World Congress on Diet, Nutrition and Obesity
ORGANISATION
Conference series LLC
VENUE/DATE
Auckland, New Zealand
9:00am Mon 13 April, 2020 - 5:00pm Tue 14 April, 2020
---