Symposium – Late Effects of Polio
Did you think that polio in NZ was yesterday's problem? Not so…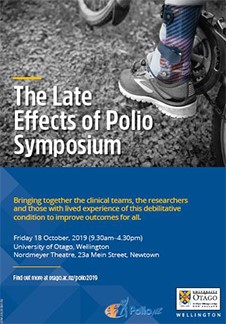 A survey of Polio NZ's members found that one of the big problems they face is the low level of knowledge among health professionals about the Late Effects of Polio, also known as Post Polio Syndrome. To address this need, University of Otago, Wellington and Polio NZ are jointly hosting a one day symposium in Wellington for health clinicians on the Late Effects of Polio.
This highly interactive symposium will bring together the clinical teams, the researchers and those with lived experience of this debilitation condition to improve outcomes for all.
There is a registration fee for this event - registrations via the link.
SPEAKER
Range of speakers
ORGANISATION
University of Otago Wellington
VENUE/DATE
Nordmeyer Theatre at The University of Otago's Wellington campus in Newtown (next to Wellington Regional Hospital)
9:30am Fri 18 October, 2019 - 4:30pm Fri 18 October, 2019
---