Materials: Fact or Fiction
As part of the 2020 'MacDiarmid Institute Regional Lecture Series', MacDiarmid researchers will delve into the periodic table to give us their scientific take on whether Sting and Nth Metal could be reality in a not too far off future.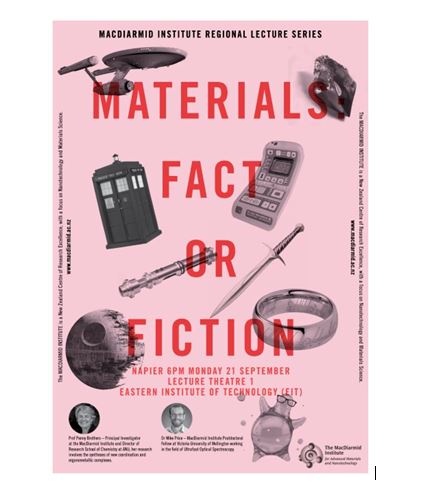 Dr Mike Price, a MacDiarmid Institute postdoctoral fellow in physics at Victoria University of Wellington, will give us his take on Sting - the large Elvish dagger from The Hobbit and The Lord of the Rings - which was wielded by both Bilbo and Frodo, and glowed blue whenever orcs were nearby. Professor Penny Brothers, Principal Investigator in the MacDiarmid Institute and Professor of Chemistry at the Australian National University will give us her scientific take on Nth Metal from DC Comics - a hyper-conductive metal that has the ability to negate gravity, allowing a person to carry objects 20-70 times heavier than normal and to fly.
From what we know of the periodic table and the world around us, could they exist in real life?
They'll be joined by Otago Museum science communicator Dr Claire Concannon as MC. There'll be two talks, a three-minute animated video on the 'science of lightsabers', and time for Q&A.
Due to recent uncertainty around COVID alert levels, the MacDiarmid Institute researchers and Claire will be contributing digitally to this event, but the public is invited to attend the event in person as normal and will still have the opportunity to ask questions of our speakers.
About the speakers
Professor Penny Brothers is a Principal Investigator with the MacDiarmid Institute. Penny obtained her BSc and MSc (Hons) degrees in chemistry at the University of Auckland; she was then awarded a Fulbright Fellowship and set off to Stanford University to pursue her PhD. She returned to the University of Auckland in 1988 and was promoted to professor in 2009. Penny is currently Director of the Research School of Chemistry at the Australian National University. Her primary research activities involve the syntheses of new coordination and organometallic complexes, and determining their structure and chemical properties.
Dr Mike Price is a MacDiarmid Institute postdoctoral fellow at Victoria University of Wellington. Mike previously studied Physics at the University of Otago and the University of Cambridge, before returning to New Zealand and his post at VUW in 2018. He works in the field of Ultrafast Optical Spectroscopy with MacDiarmid Institute Co-Director Professor Justin Hodgkiss.
The Regional Lecture Series will also be held at other regional centres around the country including Wanaka, Tauranga and Nelson. Please email MacD-Admin@vuw.ac.nz if you would like to be informed of future events!
SPEAKER
Penny Brothers and Mike Price
Professor and Doctor
ORGANISATION
MacDiarmid Institute
VENUE/DATE
Lecture Theatre 1 at the Eastern Institute of Technology (EIT), 501 Gloucester Street, Taradale, Napier 4112, Hawke's Bay
6:00pm Mon 21 September, 2020 - 7:00pm Mon 21 September, 2020
---