Our facilities hire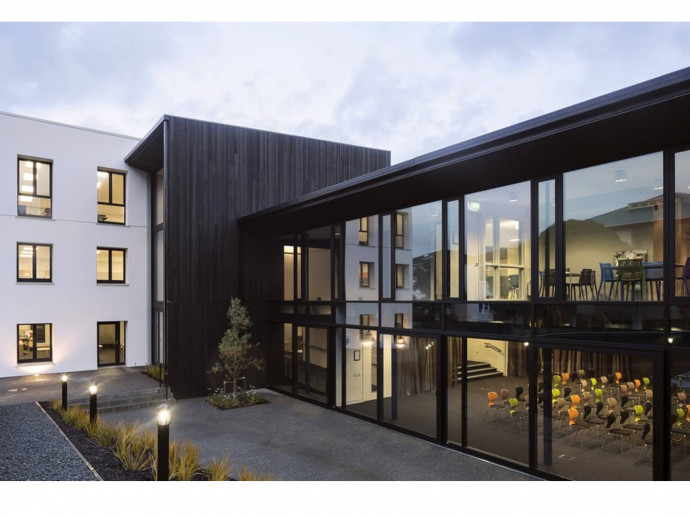 We provide modern purpose-built meeting and conference facilities that are ideal for a variety of corporate events, from small meetings, all-day workshops and seminars to cocktail functions.
The building, built in 2012, is conveniently located in Thorndon, Wellington and is built to state-of-the-art earthquake-proof standards. Each room offers natural light and pleasant surroundings.
Location
We are located at 11 Turnbull Street, Thorndon, Wellington. (A 5-10 minute walk from train and bus stations and with easy access from the motorway onto Murphy Street).
Parking
On weekdays during business hours there is no onsite parking.
There is metered street parking on Murphy Street.
Rooms for Hire
Standard hours of hire: 8.30am-4.30pm. Bookings outside these hours may incur extra charges.
Aronui Lecture Theatre: The lecture theatre is situated on the ground floor with air conditioning, built-in projectors and screens in three positions, hearing loop, wheelchair access and can be opened onto an external garden courtyard.
Kete o te Wānanga: Located on the ground level, ideal for conferences, meetings and cocktail functions. It includes an interactive presentation panel.
The schedule below shows maximum numbers without catering. Capacity may be limited when catering is required. Please contact rooms@royalsociety.org.nz or phone reception 04 4727421 to discuss capacity if catering is included.
Room
Area
THEATRE
CLASS ROOM
COCKTAIL (standing)
BOARD ROOM
U-SHAPE
BANQUET
Rate per hour
(minimum 3 hrs)
Aronui Conference Room
180 sqm
150
80
165
50
35
80
$200 excl GST
Kete o te Wānanga
100 sqm
40
30
50
25
18
-
$170 excl GST
Click here to see Room Layout options
Audio Visual Facilities
Fully integrated audio-visual facilities are available to cater for most requirements. The lecture theatre is fitted with three high resolution data projectors and drop-down screens. If you are bringing your own laptop for use in the lecture theatre, please test it on our system before the event.
Catering
Catering is provided by external parties. We are happy to organize this for you. We work closely with several very experienced and professional catering companies who are familiar our facilities.
Maximum catering capacity is 80pax.
You must advise us if you arrange your own caterers. Note; Our facilities are not available for food preparation or heating.
Tea / Coffee: up to 3 hrs $5pp (minimum charge) / over 3 hrs $10pp unlimited
Mints (if requested) - no extra charge

Also for Hire:
Minimum charge (up to 3 hrs)
(GST excl)
Over 3 hrs (GST excl)
PC Package (includes the use of laptop computer, pointer, data projector and screen or interactive presentation panel)
$70
$100
Electronic whiteboard
Included
Whiteboard
Included
Wireless Internet Access
Included
Teleconference Unit (direct costs including technician time will be on charged if RSNZ audio conference facilities used)
$20
$40
Videoconference Unit (direct costs including technician time will be on charged if RSNZ videoconference facilities used)
$100
$150
Lectern with microphone
$25
$40
Handheld/lapel microphone
$25
$40
Flipchart stand & paper
$25
$40
Pad/paper/pens
$1 per person
Security charge (needed for all hires outside office hours)
$50
Bookings
Our capable and helpful team will assist you to ensure a successful function.
To check availability, please email: rooms@royalsociety.org.nz or phone reception 04 472 7421 to discuss. Download Facilities Brochure.
We look forward to hearing from you, and working with you to ensure the success of your function.