MacDiarmid Institute Regional Lecture Series 'Materials: Fact or Fiction' - Nelson
Dr Erin Leitao and Professor Bill Williams will delve into the periodic table to give us their scientific take on whether the Philosopher's Stone from 'Harry Potter' and Axonite from 'Doctor Who' could be reality in a not too far off future.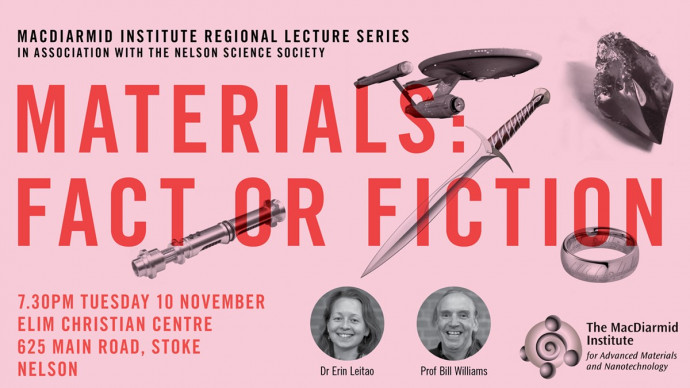 The Philosopher's Stone from Harry Potter was a legendary alchemical substance with magical properties. This ruby-red stone could be used to create the Elixir of Life, which made the drinker immortal, as well as transform any metal into pure gold.
Axonite is a 'thinking' material featured in Doctor Who that can replicate any substance and spreads itself across the cosmos to feed itself. It uses the energy it absorbs not only to copy but to recreate and restructure any given substance.
From what we know of the periodic table and the world around us, could these materials exist in real life?
Dr Erin Leitao, a MacDiarmid Institute Associate Investigator at the University of Auckland, will give us her take on the Philosopher's Stone, and Prof Bill Williams, MacDiarmid Institute Principal Investigator based at Massey University, will talk about Axonite.
The event will be chaired by Otago Museum science communicator Dr Claire Concannon as MC. There'll be two talks, a three-minute animated video on the 'science of lightsabers', and time for Q&A. Due to recent uncertainty around COVID alert levels, the MacDiarmid Institute researchers and Claire will be contributing digitally to this event, but the public is invited to attend the event in person as normal and will still have the opportunity to ask questions of our speakers.
About the speakers
Dr Erin Leitao is an Associate Investigator with the MacDiarmid Institute and a Senior Lecturer in Chemistry at the University of Auckland. Her career in science started in Canada with a BSc in Chemistry from the University of Victoria, followed by a PhD in Inorganic Chemistry at the University of Calgary. Erin then went on to do postdoctoral research in Bristol before coming to New Zealand and joining the University of Auckland in 2015. Erin's research is interested in discovering new catalytic ways to link earth abundant main group elements together with the eventual aim of making long chains (polymers) either with the same atom or two different atoms alternating along the polymer backbone. These new materials will have really interesting properties (e.g. semi-conducting, flame retardant, biofriendly).
Professor Bill Williams is a Principal Investigator with the MacDiarmid Institute and Professor in Biophysics and Soft Matter at Massey University. Originally from the UK, Bill obtained an Honours degree in Physics with Astrophysics from Leeds University and then undertook a PhD in NMR relaxation behaviour at the Open University. He went on to spend a number of years as a Postdoctoral Fellow in the Chemistry Department at York University, working on various aspects of biological polymers. Bill spent a few years in industry before returning to academia in March 2003, with a position in the Institute of Fundamental Sciences at Massey University.
SPEAKER
Dr Erin Leitao and Professor Bill Williams
ORGANISATION
The MacDiarmid Institute
VENUE/DATE
Elim Christian Centre, 625 Main Road, Stoke, Nelson
7:30pm Tue 10 November, 2020 - 8:30pm Tue 10 November, 2020
---