2020 New Zealand Young Scientists' Tournament
A fun, exciting and challenging science competition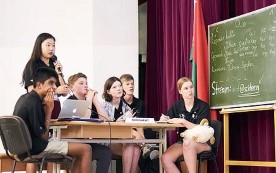 Challenge your top science students
Enter teams of three students (born in 2004 or later)
Students can qualify for IYNT 2020 – The

International Young Naturalists' Tournament –

considered the world cup of science
At the New Zealand's Young Scientists' Tournament, students need to develop their own solutions to open ended problems, which they are then given eight minutes to present.
Students can (and should) get as much help as they possibly can from anyone and everyone, but how students get to defend their investigations is by competing in Science Fights.
Participating students will develop skills of scientific inquiry, and are challenged along with their team-mates to investigate a range of scientific problems through experiment and research.
Benefits of pre-registering your students include receiving important reminders or alerts, eg. about approaching deadlines.
ORGANISATION
New Zealand Young Scientists' Tournament
VENUE/DATE
Wellington High School
249 Taranaki St
Wellington
6:00pm Fri 17 April, 2020 - 6:00pm Sun 19 April, 2020
---