Teacher workshop: Making progress in science from Levels 1-4
What does progress in science look like from Level 1 to 4?
How can progress be assessed?
What can teachers do to help their students?
What can whānau do to help their children?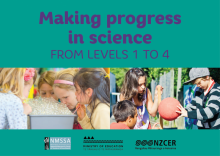 Eighteen free workshops for teachers, funded by the Ministry of Education, address these questions using findings from the 2017 National Monitoring Study of Student Achievement (NMSSA) in science.
From the findings, six resources have been produced that introduce and explain student progression between Level 1 to 4.
The workshops are from Whangarei to Dunedin between 6 March and 6 April 2020.
Numbers are limited to 40 per workshop, up to three participants per school.
Choose either a morning or an afternoon time at each location.
The morning workshop will run from 9.00am to 11.30am, with morning tea provided.
The afternoon workshop will run from 1.30pm to 4.00pm, with afternoon tea provided.
ORGANISATION
New Zealand Council of Educational Research
VENUE/DATE
Whangarei to Dunedin between 6 March and 6 April
12:00am Fri 6 March, 2020 - 12:00pm Mon 6 April, 2020
---