The Science Beneath Our Feet
11 South Island venues between 26 March and 12 April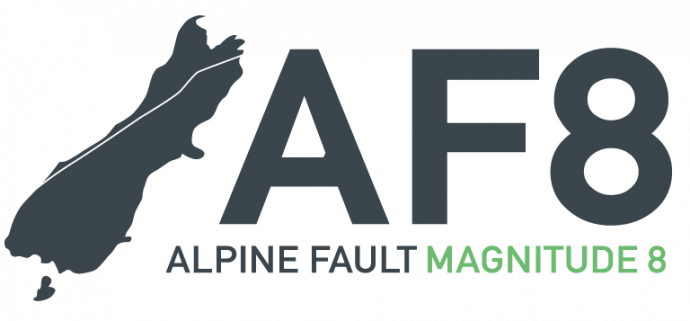 While we can't predict when earthquakes will occur, scientific research has shown that the Alpine Fault has a history of generating regular, large earthquakes. The next event is likely to occur within our or our children's lifetime for whom this is likely to have major short and long-term impacts. It is vital that all community members not only understand the geology underneath their feet but also what science has to say about how to respond in the event of a large earthquake occurring, so we can prepare and take action.
Connecting South Island regional communities with leading scientific research of our Alpine Fault, the AF8 Roadshow brings together students, scientists and Civil Defence Emergency Management (CDEM) in a conversation about the Alpine Fault earthquake hazard.
The aim of the AF8 Roadshow is to provide South Island communities and schools, in areas most likely to be affected by an AF8 earthquake, with direct access to Alpine Fault science and hazard impact information relevant to them and their region.
The AF8 Roadshow will visit communities in areas most likely to be affected in an AF8 event, providing them with an opportunity to engage with, and share, earthquake science that is relevant to them and their region. Specifically:
What scientists and CDEM know, but people don't usually encounter in everyday-life - things like geology, hazards and impacts; and,
How science informs CDEM planning and communication about the best way to respond as an individual and as a community following a disaster.
In each location, the AF8 Roadshow programme will include a schools session during the day and a public science talk in the evening.
The schools session will be one hour long and targeted at New Zealand Curriculum Levels 4-6
The public science talk will be open to all.
In order to reach communities in each of the six South Island Civil Defence regions the AF8 Roadshow will be run in 3 legs.
Leg

School

Location / Region

Date

Southland and Otago Leg

Dates: 25th-29th March

Fiordland College

Te Anau, Southland

Tue 26/03

Wakatipu High School

Queenstown, Otago

Wed 27/03

Mt Aspiring College

Wanaka, Otago

Thu 28/03

West Coast Leg Dates: 1st-5th April

South Westland Area School

Hari Hari, West Coast

Mon 01/04

Westland High School

Hokitika, West Coast

Tue 02/04

Greymouth High School

Greymouth, West Coast

Wed 03/04

Buller High School

Westport, West Coast

Thu 04/04

Reefton Area School

Reefton, West Coast

Fri 05/04

Top of the South and Canterbury Leg

Dates: 8th-12th April

Murchison Area School

Murchison, Nelson-Tasman

Tue 09/04

Rai Valley Area School

Rai Valley, Marlborough

Wed 10/04

Twizel Area School

Twizel, Canterbury

Fri 12/04
AF8-Roadshow-Itinerary-20192.pdf
VENUE/DATE
11 South Island venues
12:00am Tue 26 March, 2019 - 11:59pm Fri 12 April, 2019
---