Days of Ice: Antarctica Through Fresh Eyes Tauira Film Competition
Kia hiwa rā tauira students in Years 1 to 13! We want to see you put together a 3-minute video illustrating Antarctica from a new perspective. Show us why the frozen continent is special to you.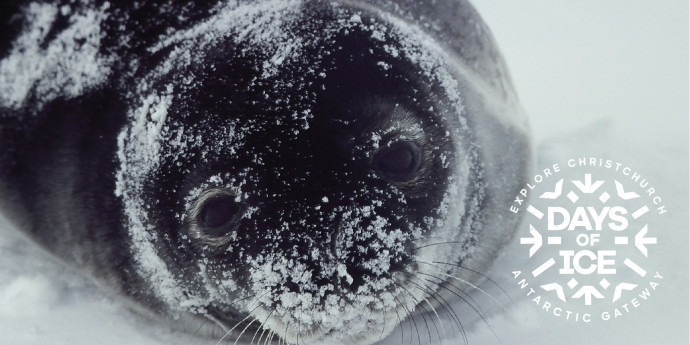 Photo by Dr Victoria Metcalf
What do you see when you picture Antarctica? What do you not see?
The spirit of this competition is to see Antarctica through fresh eyes! Show us a video portrayal of Antarctica in a way we've never seen before.
Antarctica is our last great wilderness - it is a taonga treasure to be protected. By sharing new stories and perspectives of the frozen continent, you are helping to draw a deeper public appreciation and understanding for Antarctica here in Aotearoa New Zealand, and across the globe.
Here are some suggestions to help you get started:
Through an animal's eyes
An unexpected person/story
A cultural perspective
An unusual place
It used to be covered in trees and green
An unexpected journey
Ordinary people doing extraordinary things
Privilege of our access here in Aotearoa New Zealand
Be creative with this, there aren't strict guidelines as to how your video should be made! You can enter either as an individual or a team.
Please ensure you read the competition rules in full before making a submission: download the full terms and conditions.
Apply for a mentor
Please let us know if you would like to be assigned a mentor before 25 September 2020 by filling out this form. This person will help ensure you have the resources and guidance available to produce a video - sort of like a video tutor!
We have two types of mentors available for you to access:
Technical mentors can assist you with technical questions about how to produce your film and how to craft a good story. Some of our technical mentors can provide background Antarctic images for you to use.
We also have Antarctic mentors, who can provide you with Antarctic knowledge to help you in thinking about what topic to choose, what story to tell. They might even be a good subject for your film - maybe they are an unexpected person, or they have an unexpected story to tell. Maybe they are an ordinary person doing extraordinary things in Antarctica.
See our full mentee guidelines for more information.
Apply to be a mentor
Have you been to Antarctica? Do you have expertise on the frozen continent? Are you experienced with video production? Apply to be a mentor!
Your role will be to provide students the necessary resources to produce their video, whether that be through technical help or knowledge on Antarctica. See our full mentor guidelines for more information.
How to get started
We recommend brainstorming what message you're trying to send before picking up your camera. Map out how your video will look by creating a story board - establish the beginning, middle and end.
3 minutes isn't a long time, so it's important to have a plan before you get rolling.
You don't need fancy equipment to enter this competition, just yourself, your imagination and a camera of any kind! Professional standard production is not a necessity, the story you tell is most important.
Video resources
Elanti Media in Christchurch has provided the following pictures and videos for students to use in their submissions.
Consent
Students under the age of 16 must have the permission of a parent/guardian before entering the competition. A signature of your parent/guardian is required on the submission form.
What's in it for me?
There are six prizes up for grabs:
Years 1-4 individual and team prizes
Years 5-8 individual and team prizes
Years 9-13 individual and team prizes.
The winning entrants will be notified on 7 October; winners will have travel arranged for them to fly to Ōtautahi Christchurch where they will attend the premiere screening of their videos on 12 October at the International Antarctic Centre, during the 'Days of Ice' week-long event.
For team entries the team lead will have travel arranged for them, unless they would rather another team member travel down on the team's behalf.
**Please note travel bookings will depend on COVID-19 restrictions (there will be no travel arranged under Alert Level 2) and flight availability. If travel can be arranged, students under the age of 16 will be required to travel with a parent.
The winning videos will also be featured at the International Antarctic Centre (IAC) for the next year, and winners will become IAC ambassadors. There will be merchandise as part of the prizes too.
Ready to roll?
Submit your entry by completing the submission form by 12pm 5 October. Please ensure you have read the full terms and conditions before entering (with supervision from a parent/guardian if under 16).

ORGANISATION
International Antarctic Centre, Marsden Fund & Royal Society Te Apārangi
VENUE/DATE
Royal Society Te Apārangi
11 Turnbull Street
Thorndon
Wellington
2:00pm Mon 24 August, 2020 - 5:00pm Fri 2 October, 2020
---