News
Published 11 May 2017
2016 Technology Scholarship for NZIFST/CREST Student Product Development Challenger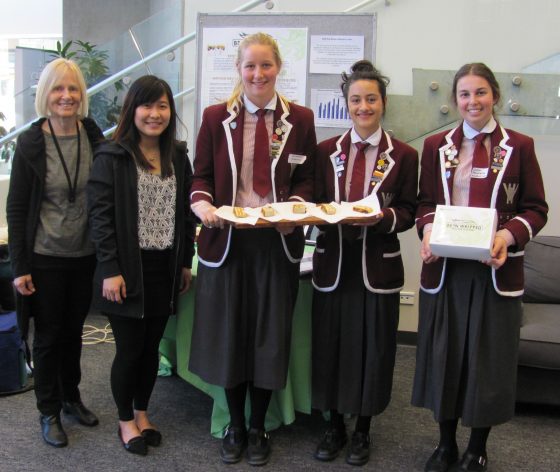 Congratulations to Tajpreet Padda from Woodford House School, who was awarded a 2016 Technology Scholarship.
Tajpreet and her teammates Caitlin Maiorana and Catie Nettlingham were participants in the 2016 NZIFST CREST Student Product Development Challenge.
Learning innovation with CREST
Jointly organised by NZIFST and CREST (Royal Society of New Zealand Te Apārangi) the Student Product Development Challenge gives teams of senior secondary school students the experience of exploring creative solutions to practical food science and technology problems and questions, working with food industry mentors in the development of an innovative new food product.
In 2016 seventy-two secondary students and their teachers, from Dunedin to Auckland, participated in the Challenge.
The Woodford House team were required to develop a nutritious, frozen, hand- held snack product with a vegetable-based filling for people between ages of 15 to 25 years.
Tajpreet says, "This opportunity gave me a robust product development project to enter for Scholarship. In my group, each girl fell naturally into a specialist area; my interest lay in researching the science behind everything and solving problems. After completing and jointly winning the (regional) competition, I used this further development of my specialist area to provide depth and individualism to my scholarship project, and gained Technology scholarship in Year 12."
Practical, real-world applications
Tajpreet went on to say, "Not only did CREST lead me to the opportunity of scholarship, it also helped me experience what it's like to professionally work in a team and learning the importance of demonstrating perseverance and commitment to meet deadlines. I am very grateful to the NZIFST members and my mentors (Sandra Chambers and LingLi Teo) who gave up their time to assist the Woodford House Team. The CREST challenge has helped me see that the New Zealand food industry is an equally exciting and viable career prospect, which i will always keep in mind."
Value for students and teachers
2016 was the first time Woodford House School took part in the Challenge.
Tajpreet's teacher, Margie Ellis, told CREST "CREST was a new challenge for me and for Woodford House students in 2016 and it was a privilege to work with such a highly motivated group of girls. I gained a lot of professional knowledge and felt well supported throughout the process. It was worth the effort and time involved and I would encourage other schools to give it a go."
Technology Scholarships
The NZQA Technology Scholarship Performance Standard requires students to present a reflective report based on their experiences in developing a technological outcome. Candidates are expected to demonstrate high-level critical thinking, abstraction and generalisation, and to integrate, synthesise and apply knowledge, skills, understanding and ideas to complex situations.
Tajpreet joins an increasing number of NZIFST/CREST Challenge students benefiting from authentic learning situations, and have gone on to win scholarships, including Valencia Ngadi and other students from Carmel College and Napier Girls' High School.
The current Challenge
This year, one hundred and thirteen students are taking part in the Challenge. Who knows what exciting products and opportunities will develop?
Source: Royal Society Te Apārangi