News
Published 13 February 2018
2017 Prime Minister's Science Prizes announced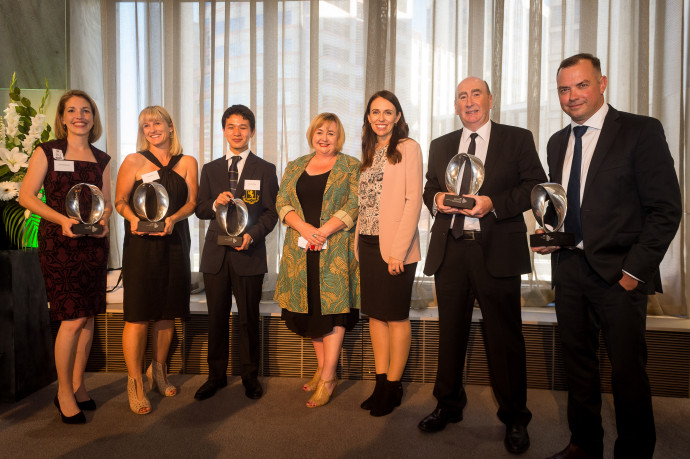 The 2017 Prime Minister's Science Prizes were presented to winners on 13 February 2018 at the Banquet Hall in Parliament.
The Prizes recognise the impact of science on New Zealanders' lives, celebrate the achievements of current scientists and encourage those of the future.
The 2017 Prime Minister's Science Prize, the premier award for science that is transformational in its impact, was awarded to Plant & Food Research and the Psa Response Team led by Chief Operating Officer Dr Bruce Campbell.
This multidisciplinary team was recognised for its rapid and successful response to Psa, a bacterial disease that results in the death of kiwifruit vines.
When the industry faced its most serious challenge with the discovery of Psa in 2010, Plant & Food Research immediately mobilised a team of up to 100 people.
Hundreds of genetically-diverse varieties from the breeding programme were screened and evaluated to find plant variety cultivars that had increased tolerance to the disease and also met grower requirements and consumer demands for taste.
The successful development of a Psa resistant cultivar 'Zesy002' not only resolved the issue with Psa, but also delivered other co-benefits which have supported the further growth of New Zealand's kiwifruit industry. As a result, global sales are predicted to reach $4.5 billion in 2025.
The prize money will be invested into developing the next generation of science technologies to protect plants against biosecurity threats, with an aim to attract world-leading international collaborators and expertise. It will also further develop New Zealand's already strong positioning as an international hub for bioprotection and ensuring food security.
The other prize winners:
The Prime Minister's 2017 MacDiarmid Emerging Scientist Prize Winner
Won by Dr Carla Meledandri from the University of Otago, who is at the forefront of developing applications for nanotechnology. This research involves incorporating silver nanoparticles into a range of breakthrough products designed to treat and prevent dental disease. Achieved through a start-up company Carla has co-founded, Silventum Limited, they also have a technology licensing deal with a multinational dental company. Their products offer a new solution for tooth decay, one of the most prevalent chronic diseases in the world, and have the potential to make dental care more affordable. Carla is also developing nanomaterials for use in industrial applications such as gas capture and storage, which could potentially assist to mitigate global warming.
The Prime Minister's 2017 Science Teacher Prize
Won by Nelson science teacher Sarah Johns who is in charge of junior science at Nelson College for Girls. Sarah says she empowers her students by encouraging them to share her philosophy of life—to be curious, open to possibilities and willing to take a risk. Sarah receives the Prize for what the judges describe as 100 percent commitment to her students and an uncompromising approach to bringing out the best in them. She devotes a huge amount of time to getting to know her students as individuals and negotiating the learning experiences that are relevant to them.
The Prime Minister's 2017 Science Communication Prize
Won by Damian Christie, a lawyer-turned-journalist, who will use the prize money to establish New Zealand's first science video news agency. The Aotearoa Science Agency will showcase some of the extraordinary achievements and discoveries from within New Zealand's science sector and promote the successes to new audiences here and overseas. The Prize recognises the success of Damian's creation and production of 'Jamie's World on Ice', which featured globally successful Kiwi YouTuber Jamie Curry exploring Antarctica and relaying her journey to an international following on social media. The video series gained more than 2.5 million views on social media, featured on television, radio, in several media publications and played on Air New Zealand international flights.
The Prime Minister's 2017 Future Scientist Prize
Won by former Auckland Grammar School student Jonathan Chan for development of a sophisticated, 3D printed mesh emulating a spider web, as a novel approach to atmospheric water collection. With support from his teachers and staff at The University of Auckland, Jonathan researched a low cost, environmentally friendly system of fog collection to provide good quality drinking water, where it might otherwise be unavailable. Jonathan's challenge was to create a more efficient mesh that mimicked the wetted spider silk or cactus spine by controlling the size and structure of the mesh. Jonathan has enrolled at The University of Auckland to begin biochemistry studies, with the goal of eventually being involved in designing new drug therapies.
Source: Royal Society Te Apārangi