News
Published 25 July 2018
2018 New Zealand Rutherford Lecture: It's a super tour!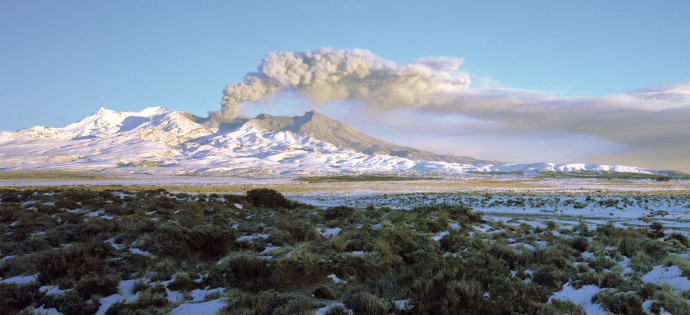 Mt Ruapehu 1995 eruption (c) GNS Science/Lloyd Homer
Rutherford Medal winner, geologist Professor Colin Wilson, on 'The Life and Times of Supervolcanoes'.
These free public talks are bought to you by Royal Society Te Apārangi in partnership with GNS Science, EQC and Victoria University of Wellington.
Professor Colin Wilson spoke to Wallace Chapman on RNZ National's Sunday Morning on Sunday 5 August 2018 about his fascination with supervolcanoes. He had just finished the South Island part of his tour and was about to start with the North Island.
Royal Society Te Apārangi is aflame with excitement to present the 2018 New Zealand Rutherford Lecture with Professor Colin Wilson FRS FRSNZ from the School of Geography, Environment and Earth Sciences at Victoria University of Wellington.
Colin was awarded the Rutherford Medal at last year's New Zealand Research Honours for his research into understanding large, explosive supervolcanoes and the hazards they pose. The Rutherford Medal is the Society's highest award, instituted at the request of the Government to recognise eminent research or technological practice by a person in any field of science, mathematics, social science, or technology.


An outstanding field-focused geologist, Professor Wilson was elected a Fellow at The Royal Society (London) in 2015, a group that consists of seven other New Zealand scientists including Sir Peter Gluckman, the inaugural Chief Science Advisor to the New Zealand Prime Minister, and most recently, Distinguished Professor Margaret Brimble.
Colin, who is British born but based his career in New Zealand, says there are several things that fascinate him about volcanoes: "the finding of new things that have not been recognised before; the challenge of trying to work out what has gone on in past eruptions (where if the eruption were to be repeated, you would not survive); as well as the enjoyment of being able to work on things from the very large scale in the field down to the microscopic scale in the laboratory".
Emeritus Professor Richard Bedford, President of Royal Society Te Apārangi says, "The Rutherford Lecture is the Society's most prestigious public address given by a very distinguished researcher that is offered in several centres every year. This year Professor Wilson will be visiting 22 centres to deliver his lecture, an unprecedented tour by a winner of this medal. I would urge members of the public interested in volcanoes to attend this lecture".
Chief Executive of Royal Society Te Apārangi, Dr Andrew Cleland states "The Society is grateful that through several partners recognising the national importance of Professor Wilson's work, we are able to bring his expertise to many more parts of Aotearoa than would otherwise be possible. We thank GNS Science, EQC (the Earthquake Commission) and Victoria University of Wellington for recognising the value of improving public understanding of volcanoes and their significance for our nation".
Being on the south-western edge of the 'Pacific Ring of Fire', a zone related to the tectonic movements of the Pacific Plate and which includes more than 75% of the world's volcanoes, New Zealand has had, probably since its infancy, active volcanism. Active and dormant volcanoes, associated geothermal areas and volcanic remnants are visible throughout our landscape, however, in recent times, eruptions have only been in the Taupō Volcanic Zone and the Kermadec Arc (since Mount Taranaki's last activity in 1854). Strikingly though, New Zealand is where the world's most violent volcanic eruption happened within the last 5000 years (known as the Taupō Eruption, or sometimes referred to as the Hatepe Eruption).


With Hawaii's famously active young volcano Kīlauea explosively erupting this month, is New Zealand in a position to forecast our next eruption? Colin cautions that volcanic systems are difficult to predict because the use of the term 'prediction' implies that volcanoes have a pattern of behaviour that is uniform.
"Contrary to this, many volcanoes show behaviour that is better described as chaotic, and not amenable to prediction. There are good reasons for supposing, however, that volcano forecasting may become feasible for many more volcanoes in the future but, as with the weather, forecasts can only be made on good information and even then can be wrong. Volcanoes have so many factors that control their behaviour that simple prediction is not likely for most future eruptions."
In light of our risk from volcanoes, Colin recommends that Kiwis should: "be prepared, in the same way that they should be prepared for earthquakes. There are steps that can be taken to minimise the damage from eruptions, and these have been learned both from New Zealand experience (such as in the 1995-1996 Ruapehu eruptions) and overseas".
He cheekily adds that "What would help is having several relatively small eruptions to keep the volcanoes in the mind's eye of the general population and politicians".
2018 New Zealand Rutherford Lecture
The Life and Times of Supervolcanoes
Professor Colin Wilson FRS FRSNZ
Invercargill | SIT Centrestage Theatre - register for Invercargill
Wednesday 25 July 6pm
Dunedin | Otago Museum Hutton Theatre - register for Dunedin
Thursday 26 July 5:30pm
Wānaka | Wanaka Presbyterian Community Church Centre - register for Wānaka
Friday 27 July 6pm
Westport | NBS Theatre Auditorium - register for Westport
Tuesday 31 July 5:30pm
Christchurch | St Margaret's College Charles Luney Auditorium - register for Christchurch
Wednesday 1 August 6:30pm
Nelson | Nelson Elim Christian Centre, Stoke - register for Nelson
Thursday 2 August 7:30pm
Kaitaia | Te Ahu Little Theatre - register for Kaitaia
Monday 6 August 5:30pm
Whāngārei | Toll Stadium, Main Lounge Level 2 - register for Whāngārei
Wednesday 8 August 5:30pm
North Shore, Auckland | Albany Senior High School Theatre - register for North Shore
Thursday 9 August 5:30pm
Auckland | Diocesan School for Girls, Epsom - register for Auckland
Tuesday 14 August 6pm
Hamilton | Southwell School Auditorium - register for Hamilton
Wednesday 15 August 5:30pm
South Auckland | Hawkins Theatre, Papakura - register for South Auckland
Thursday 16 August 5:30pm
Rotorua | Millennium Hotel Rotorua - register for Rotorua
Tuesday 21 August 6pm
Tauranga | Tauranga Yacht and Boat Club - register for Tauranga
Wednesday 22 August 5:30pm
Whakatāne | Whakatāne Little Theatre - register for Whakatāne
Thursday 23 August 5:30pm
Napier | Napier Conference Centre Ballroom - register for Napier
Tuesday 28 August 6pm
Gisborne | War Memorial Theatre - register for Gisborne
Wednesday 29 August 6pm
Taupō | Great Lake Centre Theatre - register for Taupō
Thursday 30 August 5:30pm
Masterton | Solway College Hall - register for Masterton
Monday 3 September 5:30pm
Palmerston North | Palmerston North Boys High School Speirs Centre - register for Palmerston North
Tuesday 4 September 7:30pm
New Plymouth | Puke Ariki - register for New Plymouth
Wednesday 5 September 5:30pm
Wellington | Victoria University of Wellington Rutherford House (Pipitea Campus) RHLT1 - register for Wellington
Wednesday 12 September 6pm
Wellington | Royal Society Te Apārangi, Aronui Lecture Theatre - register for Wellington (2 of 2)
Thursday 13 September 12:30pm
These events are free to attend and you are welcome to turn up on the day, however, due to their expected popularity, please register to guarantee your seat(s) by following the above booking links.
Presented in partnership with GNS Science, EQC and Victoria University of Wellington.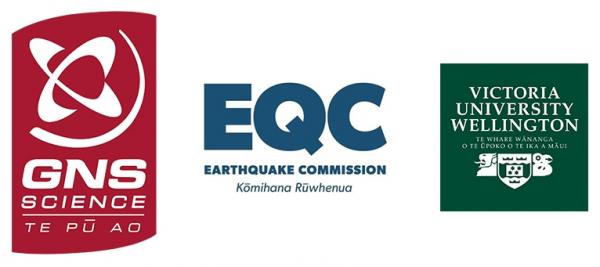 Source: Royal Society Te Apārangi
I am a great believer in the simplicity of things and as you probably know I am inclined to hang on to broad and simple ideas like grim death until evidence is too strong for my tenacity.