News
Published 5 June 2018
Royal Society Te Apārangi congratulates the 2018 Queen's Birthday Honours recipients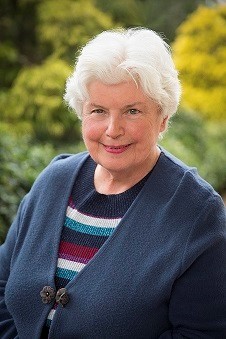 Dame Charmian O'Connor. Image credit: The Kate Edger Educational Charitable Trust
Emeritus Professor Charmian O'Connor CBE JP FRSNZ has been awarded Dame Companion of the New Zealand Order of Merit for services to education and chemistry and Emeritus Professor Helen Leach FRSNZ has been made an Officer of the New Zealand Order of Merit.
Dame Companion of the New Zealand Order of Merit for services to education and chemistry
Emeritus Professor Charmian O'Connor is internationally recognised for her contributions to chemistry and education. Professor O'Connor is a Fellow of the Society and was instrumental in establishing the independent Kate Edger Educational Charitable Trust (KEECT). The KEECT, through its academic dress hire business, is now one of the largest non-governmental funders of women's higher education in New Zealand. As a Professor at the University of Auckland from 1986 and Emeritus Professor from 2004 she has been a member and chair of a range of the university's advisory committees and a member of fellowship selection committees. She was a member of the Manukau Institute of Technology Council and helped establish a research committee. As a Ministerial Representative on the Council of Unitec from 2005 to 2014 she played a key role in advancing the construction of the wharekai and wharepaku to complete Unitec's Marae facilities. Professor O'Connor has continued her involvement with chemistry organisations and conferences at national and international levels.
For services to Culinary Anthropology
Emeritus Professor Helen Leach is a Fellow of the Society and is an authority on culinary anthropology and has conducted research for more than 50 years into the history of New Zealand, the archaeology and anthropology of Oceanic culture, and the social history and anthropology of horticultural practices. Professor Leach has lectured at the University of Otago's Department of Anthropology since 1969, is the author of 22 books, and has contributed more than 40 chapters to other publications. In the 1960s and 1970s she authored several books on prehistoric man in New Zealand and later achieved renown with her 1984 publication 1,000 Years of Gardening in New Zealand, an illustrated study of gardening throughout the entire period of human settlement in the country. More recently she completed a ten-year research project into the material culture of cooking among New Zealanders living in the past two centuries. Throughout this project she collected more than 2,000 New Zealand cookbooks. Professor Leach has published a series of critically acclaimed books including The Pavlova Story: A Slice of New Zealand's Culinary History (2008) and Kitchens: The New Zealand Kitchen in the 20th Century (2014).
A full list of winners is provided by the Department of the Prime Minister and Cabinet.
Source: Royal Society Te Apārangi