News
Published 29 January 2017
A Gold Occasion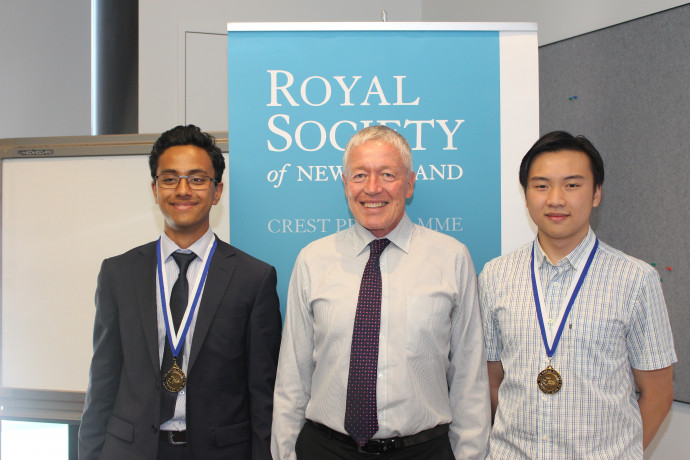 Gold CREST recipients Chun Kiet Vong and Siddha Ganesan, formerly of Onslow College, were presented their Gold CREST medals at a special ceremony last week
Chun Kiet and Siddha earned their Team Gold CREST for their project Affordable, Robust And Accurate Absorption Spectrometer: an investigation and development of an affordable yet accurate absorption spectrometer, which they completed in December 2015. Due to unforeseen circumstances, their Gold CREST medals could not be awarded until now.
Chun Kiet and Siddha were presented their Gold CREST medals by Professor Richard Bedford, President, Royal Society of New Zealand.
[caption id="attachment_288318" align="alignleft" width="300"] Siddha Ganesan, Professor Richard Bedford and Chun Kiet Vong[/caption]
Professor Margaret Tennant, from the Royal Society of New Zealand Council, joined the Gold CRESTers' proud parents, siblings, supervising teachers and project mentor in celebrating with these two young achievers.
Chun Kiet is studying Biomedical Science at the University of Auckland and Siddha is studying Actuarial Science at Victoria University of Wellington.
Source: Royal Society Te Apārangi