News
Published 3 October 2023
Dr Chrissie Painting appointed as Senior Editor of NZJZ to succeed Dr Cor Vink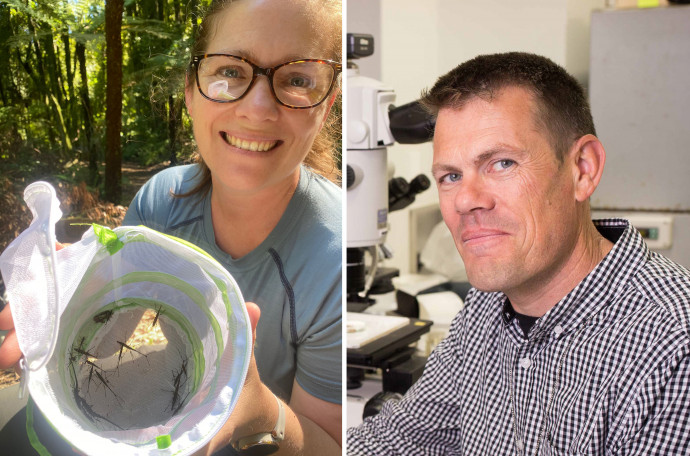 We are delighted to announce the appointment of Dr Chrissie Painting (Waikato) as the new Senior Editor of the New Zealand Journal of Zoology (NZJZ). Starting in January 2024, she will succeed Dr Cor Vink (Lincoln), who has been at the helm since 2016. Dr Painting's selection is a testament to her ongoing contributions to the journal, her leadership capabilities, and her great dedication to the animal science research community.
As a prolific mid-career researcher, Dr Painting brings a wealth of expertise in behavioural ecology and evolutionary biology to her new role. Her research is supported by the prestigious Rutherford Foundation Fellowship and Marsden Fund. Her international research stints at ANU and NUS have enabled her to cultivate a broad network extending beyond Aotearoa. This network is poised to play a pivotal role as NZJZ explores global opportunities and collaborations, while simultaneously enhancing the journal's presence in New Zealand.
Having been an integral part of NZJZ, Chrissie's recent accomplishment in facilitating the animal behaviour special issue, launched in September 2022, underscores her commitment to NZJZ's growth. Collaborating as a co-guest editor, she mobilised and engaged the community, leading to a remarkable surge in submissions for this project. Additionally, over the past few years, Chrissie has provided valuable recommendations for several active researchers who were subsequently appointed as Associate Editors, which enhanced the strength and diversity of the editorial team. Her extensive editorial experience with leading international titles like Insect Conservation and Diversity, Behavioural Ecology and Evolutionary Ecology further demonstrates that she is operating at the forefront of her field.
Speaking about her appointment as Senior Editor, Dr Painting said: "I am delighted to have the opportunity to take on this role. Firstly, I wanted to thank Dr Vink for his excellent leadership of the journal over the last 8 years. Cor invited me to become an Associate Editor in 2016 when I was a postdoctoral fellow, giving me a valuable opportunity to connect with the New Zealand scientific community and increase my professional development as an early-career researcher. Under his leadership I have learnt a lot about the editorial process and look forward to applying the skills I have learnt from Cor in my role as Senior Editor.
My vision for the journal is to build off the momentum that Cor and his team have created to further increase the appeal of NZJZ as an ideal home for great scientific research. I envision focussing on facilitating early-career researcher development by providing mentorship for editorial roles, as well as making NZJZ an obvious choice for graduate student publications. We all recognise the increasing competitive landscape that our journal sits in, where there is a wealth of publication opportunities for researchers. I aim to explore options on how to increase our submission rate by capitalising on the success of our recent special issues, expanding our editorial team to include colleagues from a broader geographic area, and leveraging my professional network to seek new connections for the journal."
Programme Manager – Publishing Fei He said: "Cor's influence was not only felt through his insightful leadership but also in his role as a mentor to our editors and authors. His dedication to guiding early-career authors towards publishing and fostering a collaborative atmosphere within the editorial team has inspired fellow editors and elevated the quality of submissions and the overall profile of the journal. As we transition into this new era under Chrissie's leadership, I am excited about the fresh perspectives and innovative initiatives she will bring to the journal. Her close ties to the Royal Society Te Apārangi and her influential presence within both the journal and the research community make her an exceptional choice to lead NZJZ forward."
Cor said: "I have enjoyed my role at Senior Editor of NZJZ over the last eight years and I have the utmost confidence that Chrissie will do a fantastic job. Chrissie was a natural choice when I invited her to join the journal as associate editor in 2016 and the excellent work she has done with the journal since then made her the obvious choice to take over from me."
Cor and Chrissie will work together on the transition over the coming months. We are confident that under Chrissie's leadership, the journal will continue to flourish as a preferred platform for disseminating excellent research relevant to all facets of zoological science in New Zealand and beyond. The editorial team and Royal Society Te Apārangi appreciate your continued support.
Source: Royal Society Te Apārangi