News
Published 19 September 2019
David Towns recipient of 2019 Charles Fleming Award for Environmental Achievement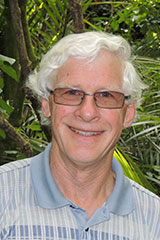 Professor David Towns, AUT, has recently been awarded the 2019 Charles Fleming Award for Environmental Achievement by Royal Society Te Apārangi.
The award honours those who have achieved distinction in the protection, maintenance, management, improvement or understanding of the environment, in particular the sustainable management of the New Zealand environment. The award is made every three years to an individual and consists of a medal and a cash grant of $2000.
In the course of his nearly 40 years working in New Zealand environmental science, David has contributed to three fields: ecology and taxonomy of freshwater mayflies; conservation of rare reptiles; and the restoration of island ecosystems.  The latter in particular has led to collaborations with iwi and community groups.
View all recipients of the Charles Fleming Award for environmental achievement.
Source: Royal Society Te Apārangi