News
Published 4 May 2017
Dr Graham's Blow Up Science show returns to New Zealand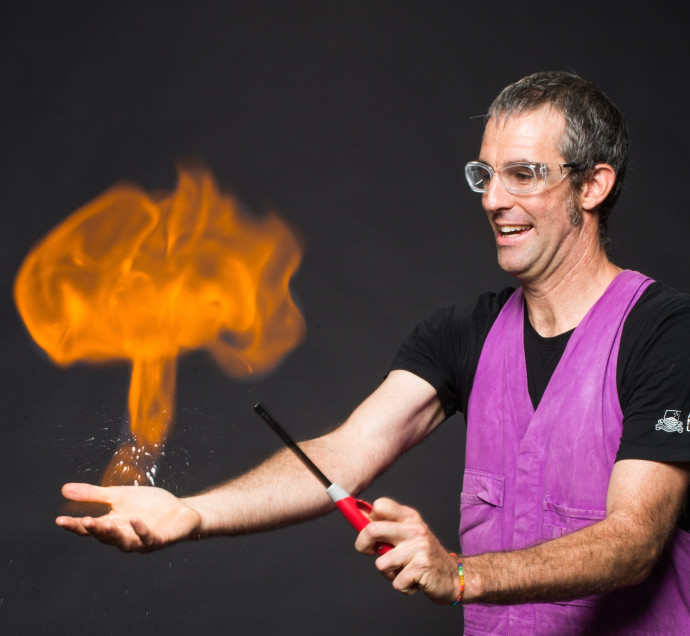 After sold out shows in Central Otago last year, Dr Graham Walker returns to New Zealand in July, performing his 'Blow Up Science' show in Auckland, Whangarei, Christchurch and Greymouth.
Can you really launch marshmallows out of a vacuum cleaner, make rockets from common household items, or launch teddy bears using liquid nitrogen? Prepare yourself for some seriously mind-bending science, as Dr Graham explodes his way through the chemistry and physics of things that go bubble, boom, bang and occasionally catch on fire!
Dr Graham Walker has been performing science shows for the past 15 years and regularly thrills audiences around the world with his unique brand of entertaining and engaging science. He has been brought to New Zealand by Royal SocietyTe Apārangi to celebrate their 150th anniversary.
This show will appeal to primary school children but all are welcome to attend.
Children under 14 years must be accompanied by a responsible adult.
Auckland | Vodafone Events Centre
1pm - 2pm Monday 17 July
Whangarei | Forum North
11:30am - 12:30pm Tuesday 18 July
Christchurch | Jack Mann Auditorium, University of Canterbury
11:30am - 12:30pm Wednesday 19 July
EXTRA SHOW Christchurch | Jack Mann Auditorium, University of Canterbury
9am - 10am Wednesday 19 July
Greymouth | Greymouth High School Hall
11am – 12pm Thursday 20 July
For all enquiries, please email debbie.woodhall@royalsociety.org.nz
Royal Society Te Apārangi is grateful for the support of their partners.




Source: Royal Society Te Apārangi