News
Published 6 March 2019
Finalists announced for 2019 Ockham New Zealand Book Awards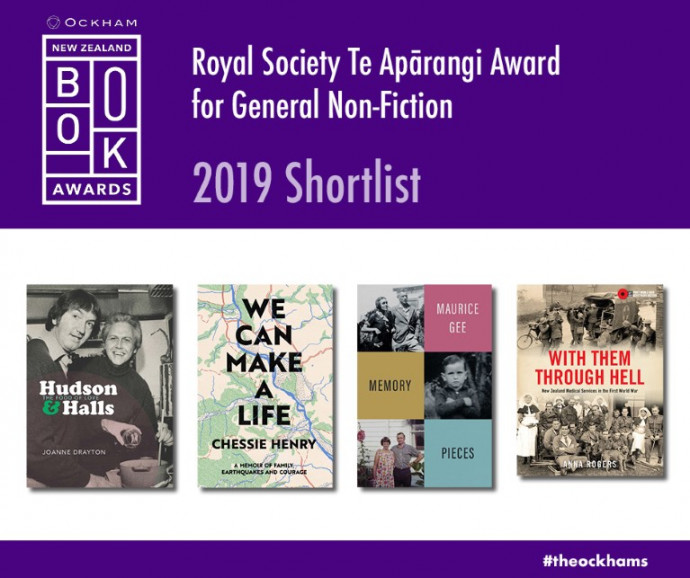 The finalists for the 2019 Ockham New Zealand Book Awards have been announced, including those shortlisted for the Royal Society Te Apārangi Award for General Non-Fiction.
The Royal Society Te Apārangi Award for General Non-Fiction finalists are New York Times best-selling author and academic Joanne Drayton for Hudson & Halls: The Food of Love; lauded and much-loved writer Maurice Gee for Memory Pieces; debut author Chessie Henry for We Can Make A Life, and renowned editor and writer Anna Rogers for With Them Through Hell: New Zealand Medical Services in the First World War.
"We were excited by the fresh and diverse perspectives, new voices, and generous writing reflected in the shortlist, as well as by the appeal and attractiveness of the books themselves," says General Non-Fiction category convenor of judges Angela Wanhalla.
Four of our best-known novelists – whose novels, appropriately for our times, explore what it means to tell the truth – are in the running for the country's richest fiction writing prize. 
The Cage by Lloyd Jones, This Mortal Boy by Fiona Kidman, All This By Chance by Vincent O'Sullivan, and The New Ships by Kate Duignan are shortlisted for the $53,000 Acorn Foundation Fiction Prize.
"They stood out for their ability to explore personal memory and collective mediation of the truth in new and provocative ways that have a lasting impact on the reader," says the Fiction category convenor of judges Sally Blundell.
Award-winning New York-based novelist Joseph O'Neill will assist the three New Zealand judges to select this year's Acorn Foundation Fiction Prize winner. 
Today's announcement includes two major new Awards' sponsors. Mitochondrial science company MitoQ will sponsor the four Best First Book awards, and arts enthusiasts and philanthropists Mary and Peter Biggs will support the Poetry category.
MitoQ's chief marketing officer John Marshall says that as one of New Zealand's newest success stories, it is their pleasure to help emerging writers further enrich the country's literature.
Peter Biggs says that with poetry undergoing a wonderful resurgence in our country over the last few years, it struck him as strange that the Award for Poetry was unsupported.
"We are thrilled to be involved and hope that the Award continues to recognise poetry's – and the poet's – vital role to, as Salman Rushdie says, shape the world and stop it from going to sleep."
The finalists in the Mary and Peter Biggs Award for Poetry are Are Friends Electric? by Helen Heath; There's No Place Like the Internet in Springtime by Erik Kennedy; The Facts by Therese Lloyd and Poūkahangatus by Tayi Tibble.
"The poetry collections on this year's shortlist are marked by a striking diversity of approaches to the lyric poem, but all show an ambitious and engaging interest in experimenting with narrative, form, structure and voice without sacrificing emotional resonance," says this year's Poetry category convenor of judges Bryan Walpert.
In the Illustrated Non-Fiction category, the four finalists are: Fight for the Forests: The Pivotal Campaigns that Saved New Zealand's Native Forests by conservationist and journalist Paul Bensemann; Wanted: The Search for the Modernist Murals of E. Mervyn Taylor edited by investigative artist and researcher Bronwyn Holloway-Smith; Tatau: A History of Sāmoan Tattooing by senior curator Sean Mallon with anthropologist Sébastien Galliot, and Birdstories: A History of the Birds of New Zealand by writer, publisher and environmentalist Geoff Norman. 
Illustrated Non-Fiction category convenor Douglas Lloyd-Jenkins says the judges were thrilled with the quality and ambition of the short-listed books, all of which clearly stood out from the rest.
New Zealand Book Awards trustee Jenna Todd says the Ockham's shortlist is clear evidence of the vitality of New Zealand literature.
"Not only does the shortlist feature some of our best known writers - those with long and illustrious careers - but it also includes newcomers writing out of deep passion and engagement. These 16 books deepen the public discourse on a range of issues and the particular genius of each of their writers lifts them to an emotional plane at which they reward and endure for their readers," says Ms Todd.
Source: Royal Society Te Apārangi / Ockham New Zealand Book Awards