News
Published 23 July 2018
First kiwi recipient of international dairy award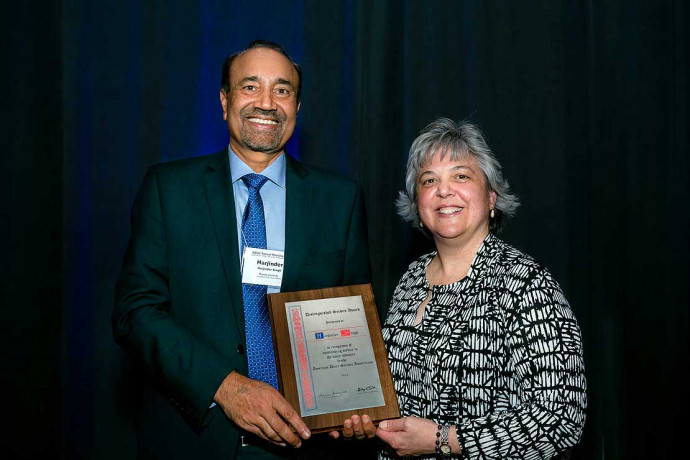 Professor Harjinder Singh with American Dairy Science Association past president, Karen Schmidt.
Royal Society Te Apārangi Fellow and Massey University Distinguished Professor Harjinder Singh has become the first New Zealander to receive the American Dairy Science Association Distinguished Service Award.
Professor Singh, who is the Director of the Riddet Institute, received the award on 25 June during a ceremony at the American Dairy Science Association (ADSA) annual meeting in Knoxville, Tennessee. The award recognises outstanding and consistent contributions to the welfare of the dairy industry.
Professor Singh is a world-renowned food scientist, and a major figure in the development of dairy science research. 
His contributions to dairy science in the United States have been previously recognised by ADSA through other prestigious awards: the International Dairy Foods Association Research Award in Dairy Foods in 2015; and the Marschall Rhodia International Dairy Science Award in 2001. In 2008, he was awarded the William Haines Dairy Science Award by the California Dairy Research Foundation.

Professor Singh's research has had a major international impact, both in the dairy industry and academic community. He has published over 350 peer-reviewed papers in international journals and has mentored over 60 PhD students and postdoctoral researchers. He has also shown great skill as a leader, both in his role leading Riddet Institute, but also heading the School of Food and Nutrition, and the Massey Institute of Food Science and Technology from 2015-17. 

Chair of the Riddet Board Dr Kevin Marshall says the award is a great honour.

"The board are delighted with the award and congratulate Professor's Singh's contributions to food and dairy science, which have received world-wide recognition. This award is a well-deserved further acknowledgement, but also a recognition of the world-renowned standing of the work of the Riddet Institute and its partners and collaborators."
Professor Harjinder Singh was made a Fellow of Royal Society Te Apārangi in 2002. 
Source: Massey University