News
Published 15 November 2018
First meeting with Welsh academy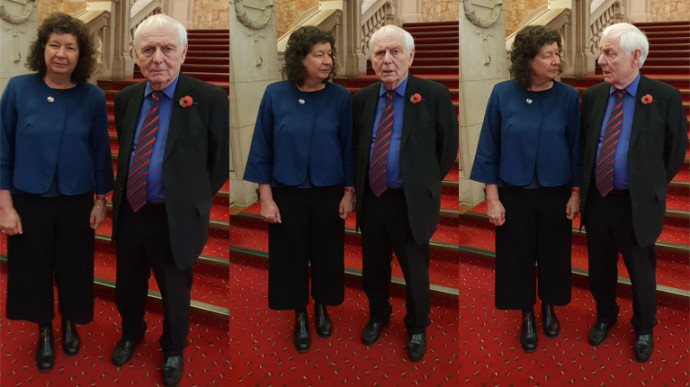 Our President Professor Wendy Larner with The Learned Society of Wales President Sir Emyr Jones Parry
On a recent overseas trip our President Professor Wendy Larner FRSNZ and Chief Executive Andrew Cleland FRSNZ met with leaders from The Learned Society of Wales.
Formed in 2010, The Learned Society of Wales | Cymdeithas Ddysgedig Cymru is an educational charity that exists to recognise and celebrate Welsh scholarship and research.  Based in Cardiff, it currently has over 500 Fellows.  
Similar to the Scottish equivalent—Royal Society Edinburgh—and the "whole of Ireland" equivalent—Royal Irish Academy—the three academies have been sharing ideas and learning from each other. The recent trip was a good opportunity to strike up a relationship with the Welsh organisation.
The first meeting was on 2 November, when President Sir Emyr Jones Parry and senior members of his Council and staff welcomed our President Professor Wendy Larner and Chief Executive Dr Andrew Cleland. It was a day of fruitful discussions where we found many things in common and that there were things to learn both ways.
They provide expert advice to the Welsh government, elect Fellows similarly to us, seek to support the careers of early to mid-career researchers, and share our concern for the need to increase the diversity of elected Fellows. 
They have put much effort into using their convening power to bring together wide stakeholders to work together on issues of importance to the Welsh research and scholarly community. And rugby was hardly mentioned by our new Welsh friends! 
Source: Royal Society Te Apārangi