News
Published 18 October 2023
From CREST to addressing injustices in our architectural environment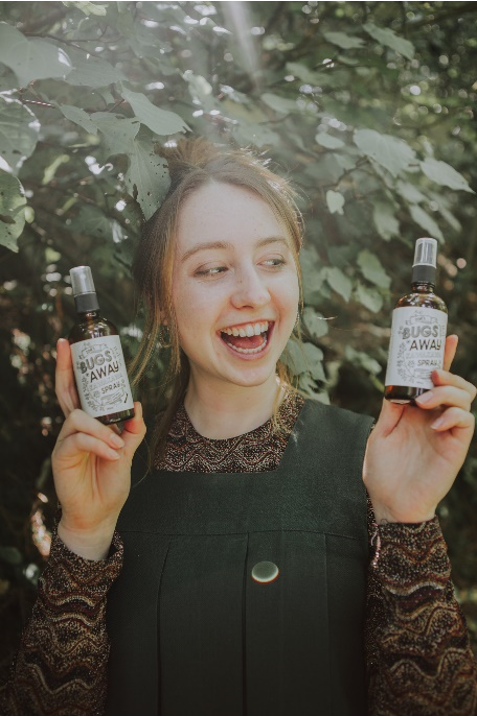 Zoe Glentworth first became involved with Royal Society Te Apārangi in 2013 when she was supported by the silver CREST programme to develop her kawakawa bug spray. Now, 10 years on, she is working with Tika Lab, a thesis group that seeks to address injustices in the architectural environment. Zoe reflects on her decade-long journey.

SILVER CREST & REALISE THE DREAM
In 2012, I entered 'Zoe's Bugs Away Kawakawa Spray' into the Manawatū Science Fair. Eleven years later, I am still working on this project!
The initial motivation for 'Zoe's Kawakawa' was to provide an alternative to commercial insect repellents containing chemicals harmful to both humans and Papatūānuku. Supported by Rangitāne iwi, Lynn Kirkland, Warwick Grady and my Mum (Kathy Glentworth), we developed and sold our first Zoe's Kawakawa Balm at the Herb Farm in 2013.
With the support and funding of the Royal Society Te Apārangi Silver CREST project in 2013, the project was further developed as, "Pepper Spray for Little Biters." An extremely elated 13-year-old Zoe was given the opportunity to attend the weeklong 'Realise the Dream' National Science programme, run by the Society. Alongside twenty other high school students, I visited universities and some of the top science facilities on offer.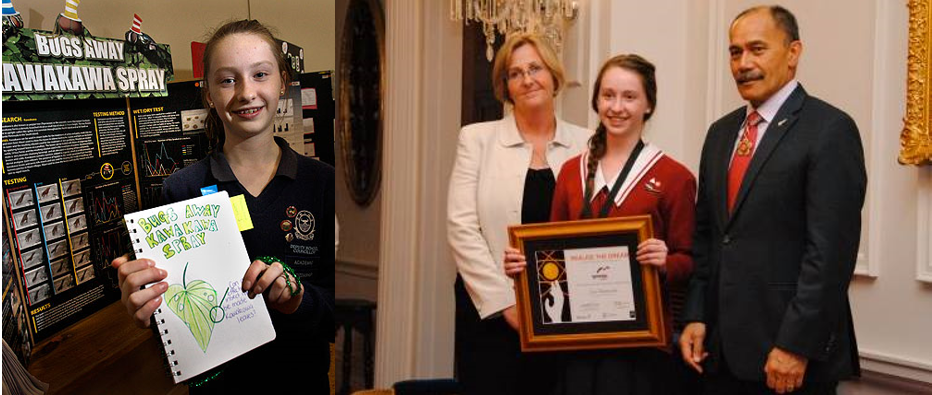 I enjoyed myself far too much that week. The next year, I took another science fair project to the 'Realise the Dream' programme. In response to the damaging effects of coral bleaching, 'Safe Sunscreen Solution' investigated the UVA blocking and absorption properties of blackcurrant oil in synergy with kawakawa balm. I was blown away to attend the programme a second time, and I absolutely thrived in the jam-packed week of group challenges, new friends, adventuring through the adrenaline forest, walking over the Auckland Harbour Bridge and having challenging conversations about science and technology.

TEAM GOLD CREST & POWERING POTENTIAL
In 2016 – 2017 I embarked on a Royal Society Te Apārangi Team Gold CREST science project with my friend, Katie Liu. The aim of the investigation was to develop an insect repellent spray made from Kawakawa and non-native plants (Lemon Eucalyptus and Yarrow), investigating their synergistic effects.
From this project, Katie and I attended the Royal Society Te Apārangi Powering Potential programme in 2017. Forty high school students from around the motu gathered for three days of researching and brainstorming solutions to big problems. My group, the 'Lawn Moas', explored the ethics of de-extinction of New Zealand species. This was such a special opportunity to celebrate the end of CREST and meet with other science tauira.
Eleven years on from science fair and CREST projects, the dream of Zoe's Kawakawa lives on! Alongside my whānau, we make a range of insect repellent lip balms, and aromatic balms. We're dedicated to honest sustainability and community transformation. Recently, we launched 'Lemon-aid lip balm' to support tautoko community organisations. The organisations we are currently supporting are the Women's Refuge and The Wellington Free Store. I am genuinely so grateful for all the support I have received along the way. I am stoked to be able to support the community kaupapa that is doing such important mahi.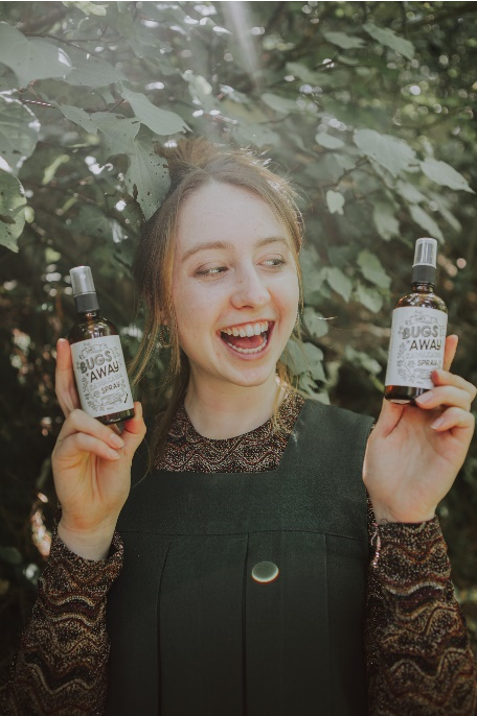 ARCHITECTURE
After high school, I found that studying architecture was a natural channel to cultivate my loves of both science and art. I was intrigued by the way architecture can be a beautiful and challenging craft, while holding potential to transform lives and communities. After undergraduate study, I swapped to part-time study to have more capacity to volunteer at The Free Store and study te reo Māori, He Pī Ka Rere at Te Wānanga o Aotearoa, while also studying Theology at Bishopdale.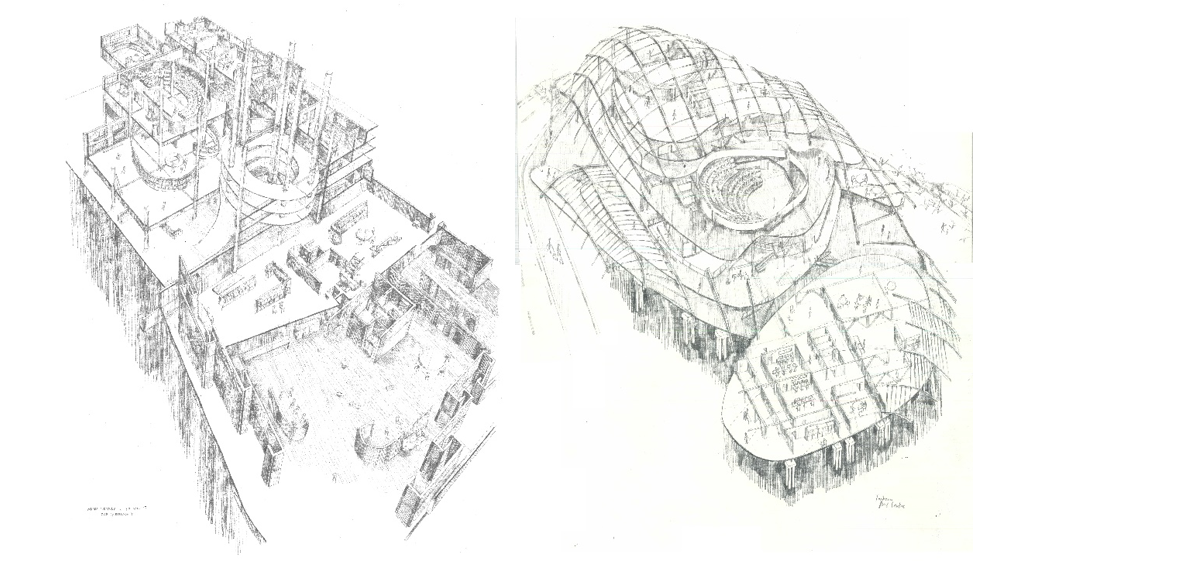 PRIME MINISTER'S SCHOLARSHIP TO INDIA
At the beginning of 2023, I spent six (wild) weeks in India on a Prime Minister's Scholarship. We journeyed from the south to the north of India, learning about Indian innovation, technology, politics, culture, and religion. I was particularly captivated by learning and studying the traditional Indian architecture and medicinal practices – particularly the versatility of Neem trees which have similar medicinal properties to kawakawa! We also visited Gandhi's ashram, Dharavi (the largest slum in Asia), and had joyous Bollywood and yoga sessions every day!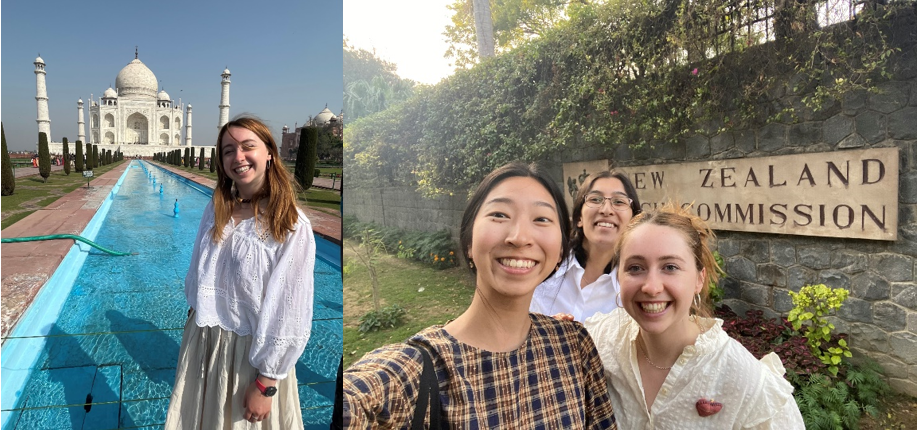 THE FREE STORE COMMUNITY
I've been volunteering at The Wellington Free Store since 2018, which is a truly special community that is dedicated to redistributing food. The Free Store is built on three core values: belonging, generosity, and transformation. The community welcomes and encourages everyone on their own journeys of positive change and growth. It's a community filled with hope, in an environment with some rugged life circumstances.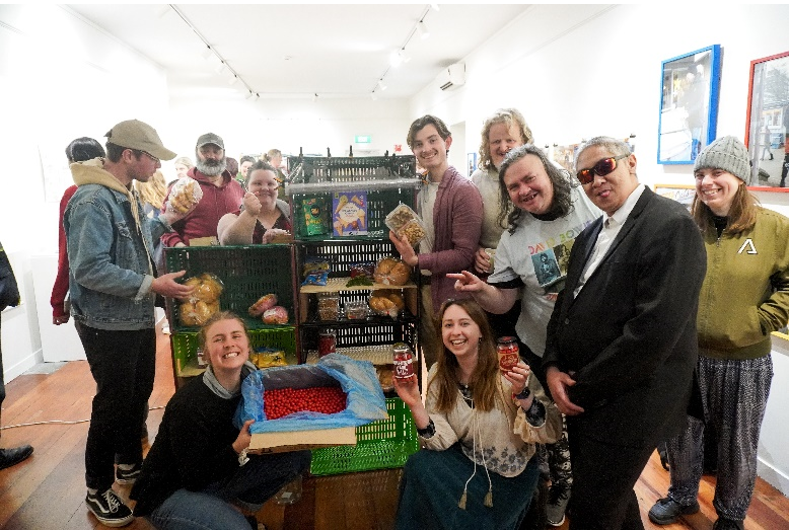 GENERO-CITY & PĀTAKA KAI – ARCHITECTURE THESIS
I belong to 'Tika Lab', a thesis group that seeks to address injustices in the architectural environment. This year, I took my study from the classroom and brought it into the community. My thesis, 'Genero-city', is focussed on co-designing with the Wellington Free Store to craft public spaces of manaakitanga. The project imagines a world where architectural decision-making is shared with marginalised groups. This was explored by co-creating de-colonial maps of Wellington to spark conversations about Te Ao Māori and sharing in the city.

Recently, I facilitated the co-creation of a pātaka kai with the Wellington Free Store. A pātaka kai is a community pantry where you can give what you can and take what you need. This pātaka kai goes beyond addressing food scarcity; it also promotes neighbourhood sharing and mankaakitanga. The vision is that people can socially connect over kai from the pātaka at the crate tēpū (table) and on crate tūru (chairs). The modular plastic food crate system allows for quick assembly within pop-up public spaces. The pātaka kai was used for two weeks at Thistle Hall in the 'Scarcity and Abundance' exhibition, where people came every day to eat soup, use the pātaka kai, and have moving (and hilarious) conversations.

I hope to live in a designed world that fosters celebration, cares for Papatūānuku, foregrounds indigenous voices, and empowers communities. Next year, I will be working within the architectural industry and hope that my mahi can contribute towards this world.
Source: Royal Society Te Apārangi