News
Published 23 December 2021
He Pānui: A Message from Royal Society Te Apārangi President, Dr Brent Clothier FRSNZ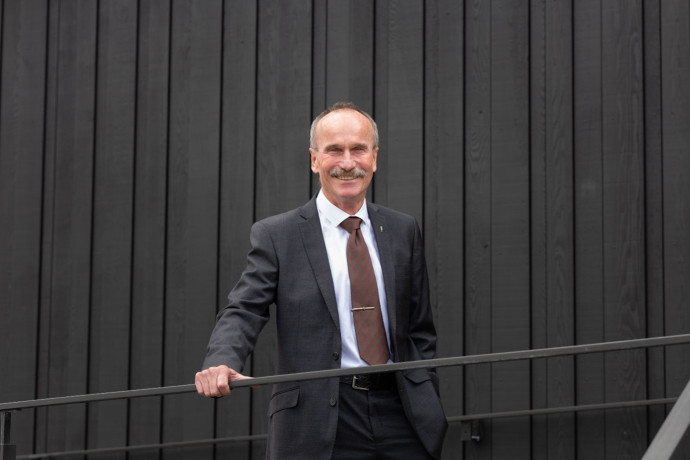 Dr Brent Clothier FRSNZ

The year 2021 has been another out-of-the-ordinary year for Aotearoa New Zealand and the world more generally. For the Society, it has been a year of great change.
The end of February saw Dr Andrew Cleland FRSNZ complete his seven-year tenure as Chief Executive of the Society. Professor Dame Cindy Kiro came into the role, only to be announced as the next Governor-General of New Zealand in May. Dame Cindy is the first wahine Māori to take up this position. Dr Roger Ridley, Mātanga Rangahau Director Expert Advice and Practice stepped in as Tumu Whakarae Acting Chief Executive to lead the Society until Paul Atkins could begin the role at the end of November.
Professor Wendy Larner FRSNZ finished her three-year term as President of the Society at the end of June. As the incoming President I feel a sense of great privilege and also a strong sense of duty and enthusiasm to continue the mahi that Wendy has done in identifying and developing solutions to issues in the research and knowledge sectors. This includes her dedication to supporting early career researchers to be able to fully contribute to this country's research and knowledge ecosystem, strengthening relationships with Māori researchers and te ao Māori, and supporting diversity in the research and knowledge sectors more generally. In June, we held a very successful wānanga He Pito Mata with the kaupapa of awakening the potential of early career researchers in Aotearoa. It was wonderful to see an increase in our membership numbers as many of the attendees joined us as Professional Members. Another testament to the change Wendy had been driving through the organisation, following on from efforts of her predecessors with support from kaimahi staff, was the make-up of Fellows formally inducted into the Academy this year. They comprised an extremely diverse cohort from within and outside academia, which was wonderful to see. The Society benefits greatly from having a diverse range of expertise and disciplines to draw from to support our initiatives.
As well as bringing many changes, 2021 has also been a year of great challenges. COVID-19 has threatened not only people's health and our health system, but also people's livelihoods and ways of life. As I felt last year, I am so grateful to live in a country where government seeks and takes the advice of our experts. I would like to express my extreme gratitude to our esteemed Members, Fellows and associates who have been at the forefront of our response to the pandemic. These include Professor Dame Juliet Gerrard FRSNZ, Associate Professor Siouxsie Wiles MRSNZ, Professor Shaun Hendy FRSNZ, Professor Michael Baker and Professor Sir David Skegg FRSNZ, plus our own Science Media Centre, among many others. Their tireless and critical work has provided sage advice to government and kept the public of New Zealand well-informed about the changing face of the virus. They have provided this transfer of knowledge and understanding through countless media interviews. The Delta variant was a curveball that forced us to change our approach. Who knows what Omicron will bring, but New Zealanders can take heart that however the government chooses to respond, it will be informed by the evidence base.
We also give heart-felt recognition to our medical and frontline essential workers, as well as all of the education sector and tauira students confronting the challenges associated with the COVID-19 global pandemic. Thank you all for your resilience, hard work and innovative ways of getting things done during this extraordinary year. Tino pai te mahi.
Challenges bring opportunities. I have been very proud of the work the Society has been able to do throughout the pandemic. In particular Te Tapeke Fair Futures project, led through our Expert Advice team, has highlighted many challenges that our nation faces. The spotlights of Te Tapeke focussed on health, housing, and poverty. These topics were viewed through an equity lens, and painted a clear picture of the challenges we face, along with expert commentaries from panel members that further illuminated how we might begin to give different groups in New Zealand a "fairer go".
I would also like to commend the Society's research funding team and those of you who have served as panellists and assessors. Together we have been able to run successful processes to award research funding and fellowships, despite the many disruptions that COVID-19 has caused.
Another challenge bearing down on us is the climate crisis. The COP26 meeting in Glasgow brought world leaders and participants together to accelerate action towards the goals of the Paris Agreement and the UN Framework Convention on Climate Change. The Society is committed to supporting action to mitigate climate change and facilitate adaptation to it. Unfortunately our IPCC public event to discuss the Sixth Assessment Report with the New Zealand authors of Working Group I, including Professor Dave Frame, Dr Olaf Morgenstern, Professor James Renwick CRSNZ and Professor Nicholas Golledge, had to be cancelled in August due to the COVID-19 lockdown. Nonetheless, we will be running this event in early March 2022. Responding to climate change through mitigation and adaptation measures will continue to be a focus of the work the Society is doing.
Another focus of the Society's work programme for early 2022 will be responding to Te Ara Paerangi – Future Pathways Green Paper, released by the Ministry of Business, Innovation and Employment in October. This Green Paper seeks wide-ranging feedback about how the future of New Zealand's research, science and innovation system can be better shaped and resourced by the government and stakeholders.
One of the topics the Green Paper is seeking feedback on is how to enable and protect mātauranga Māori in the research, science and innovation system and honour Te Tiriti obligations. This is also an area of great importance to the Society. You will have likely seen the recent message from our Tumu Whakarae Chief Executive Paul Atkins on how we are responding to the current situation in relation to the letter, 'In defence of science', published in The Listener in July. Rather than comment here on this kaupapa, I would encourage you to read our message, if you haven't already. It affirms that we are taking the issue very seriously. We are committed to supporting science and the principles of freedom of speech, as well as recognising multiple knowledge domains. In 2022 we will be launching a new initiative in our wider work programme that will explore the interface between mātauranga and science. I am sure many of you will be keen to contribute. You will be kept informed on this important and valuable project. Also, we are in contact with other Academies around the world and we intend to explore together the interface between science and indigenous knowledge systems of First Nations peoples.
In closing, on behalf of the Society, I wish you all the best for the holiday season. It's been a tough year for many, but I hope you will be able to take a good break with your whānau and be able to greet 2022 fully rested and recharged. Hopefully 2022 will allow us to meet kanohi ki te kanohi face to face.
He rā ki tua better days are coming. With your tautoko support and input as our hapori community, the Society will play a significant part in shaping those better days.
Ngā manaakitanga and ngā mihi o te wā season's greetings.
Dr Brent Clothier FRSNZ
Royal Society Te Apārangi President
Source: Royal Society Te Apārangi