News
Published 31 March 2022
He Poroporoaki ki a Dr Moana Jackson CRSNZ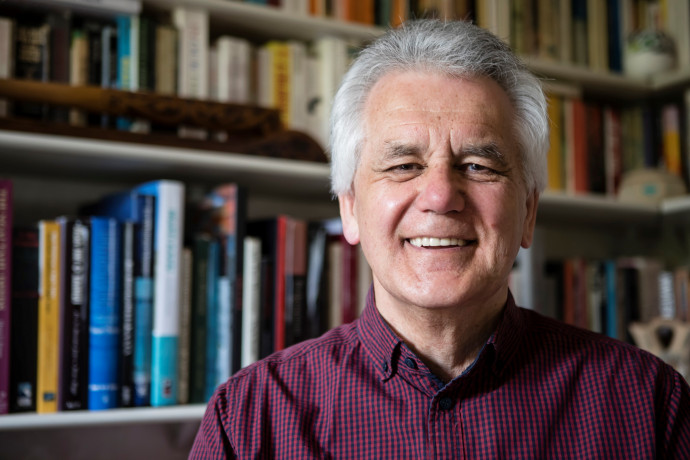 Credit: Aaron Smale
Royal Society Te Apārangi is deeply saddened by the passing of Dr Moana Jackson CRSNZ (Rongomaiwahine, Ngāti Kahungunu, Ngāti Porou). Te Apārangi extends their aroha to the whānau of Dr Jackson.
Auē taukuri ē.
Kua hinga te tōtara o te Wāo nui a Tāne.
Moe mai rā e te rangatira, haere ki te huinga o te kahurangi, ki Hawaiki nui, ki Hawaiki roa, ki Hawaiki pāmamao.
E kore koe e warewaretia.
Dr Moana Jackson is among the most highly valued and respected lawyers in Aotearoa New Zealand. He was a specialist in Te Tiriti o Waitangi and constitutional issues, having been an architect of He Whakaaro Here Whakaumu Mō Aotearoa: The Report of Matike Mai Aotearoa – the Independent Working Group on Constitutional Transformation. He was the director of Ngā Kaiwhakamārama i Ngā Ture the Māori Legal Service which he co-founded in 1987, and was a lecturer and author.
In 1988, Moana's ground-breaking report He Whaipaanga Hou was published for the then Justice Department, and continues to be a major influence on attempts to decolonise the criminal justice system in Aotearoa. He was, most significantly, the first to argue that Māori should have the opportunity for an alternative justice system and that the Māori experience must be seen on Māori terms, not forced onto preconceived notions of Pākehā methodologies. He was a forerunner in this field and worked extensively overseas on international indigenous issues, particularly the drafting of the United Nations Declaration on the Rights of Indigenous Peoples and as Chairperson of the Indigenous Peoples' Caucus at the United Nations. Moana was a judge on the International Tribunal of Indigenous Rights in Hawaii in 1993, and again in Canada in 1995. He has acted as counsel for the Bougainville Interim Government during the Bougainville peace process, during which time he is quoted as saying "Those who take power unjustly defend it with injustice."
Since 2011, Dr Jackson co-chaired the Independent Iwi Working Group on Constitutional Transformation with Professor Margaret Mutu FRSNZ. The working group has held over 300 hui around the country discussing the need for Tiriti-based constitutional change. In 2017, Moana was awarded an honorary doctorate from Te Herenga Waka — Victoria University of Wellington for his outstanding contribution to legal scholarship around Te Tiriti o Waitangi; and to public debates about how Māori are treated by the justice system, and their place in New Zealand society more broadly. In May this year, he was presented with the inaugural Te Whare Pūkenga Award for national contributions to whānau, hapū and iwi by the National Iwi Chairs Forum.
"Perhaps Moana's most important quality, aside from his formidable intellect and his extraordinary ability to communicate complex ideas with absolute clarity, is his humanity. He exemplifies compassion and humility in both word and action and, in so doing, he quietly commands the respect of all who come into contact with him… His rare talent for helping people to see issues in a new way has enabled him to make an unparalleled contribution to the vision of a just future for Aotearoa."
Ani Mikaere (Ngāti Raukawa, Ngāti Porou Pou Whakatupu Mātauranga Te Wānanga o Raukawa)
Dr Moana Jackson's sustained scholarship was devoted to making life in Aotearoa more equitable and more just. He had a deep commitment to putting that work into action, calling for the 'courageous wisdom to change' (Imagining Decolonisation, 2020, p.150).
Moana was awarded the Companion of the Royal Society of New Zealand Te Apārangi (CRSNZ) in 2021.
E te rangatira, moe mai rā i runga i te rangimārie.


"No one's exercise of free speech should make another feel less free."
Dr Moana Jackson CRSNZ (Rongomaiwahine, Ngāti Kahungunu, Ngāti Porou)

Source: Royal Society Te Apārangi