News
Published 21 September 2023
Inspiring Explorer™ Kaitlyn Martin takes on South Georgia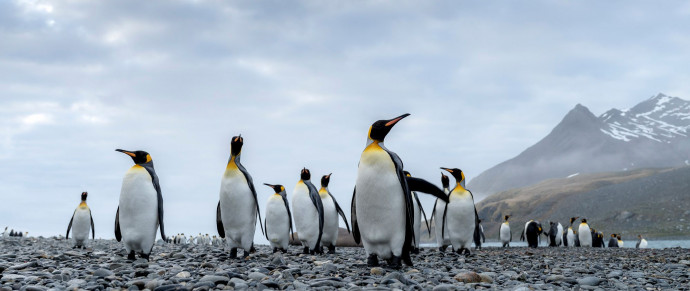 In one week, 22 young explorers will embark on an adventure of a lifetime to South Georgia Island.
Each Inspiring Explorer™ will take part in an outreach project covering topics such as climate change, education, history, and science.
Kaitlyn Martin, a Lecturer in STEM Education at the University of Canterbury, is the Royal Society Te Apārangi representative leading the education outreach team on the Inspiring Explorers Expedition™ to the remote island in the South Atlantic Ocean, organised by the Antarctic Heritage Trust.
South Georgia Island has the largest density of wildlife on Earth. It's home to king penguins, fur seals, and half of the world's southern elephant seals.
Kaitlyn says she is excited about the experience and to form a new educational tool for students.
Through an interactive card game that Kaitlyn plans to develop with her education team, she hopes to teach children about the environment of South Georgia and the area's rich history.
Features of the game may include a QR code that links to a 360-degree video of a penguin colony, allowing students to explore the environment themselves.
Kaitlyn says for her and her team, one of the benefits of being able to explore the Sub-Antarctic Island is that they can discuss big topics like climate change, wildlife, environment, and exploration, in a new and exotic location – outside of where students may normally learn about.
Before departing, the education outreach team asked students what they would like to learn about South Georgia – they have returned questions like 'how many penguins are there really?' Kaitlyn says there are over one million.
She's excited to be able to answer more questions through the game.
"I am a science communicator at heart," says Kaitlyn, "So to be able to do this as part of an outreach team, whether they are mountaineers, educational researchers like me, or documentary makers, all of them signed up because they're dedicated to communicating the experience and the science."
She says she is passionate about science communication because during her science degree, she was continuously coming across incredible things.
"I just found it shocking and bizarre that not everybody got to learn these kinds of interesting, amazing things about the world that they lived in, and I wanted to share that with people."
Later as a teacher, Kaitlyn saw an opportunity for science communicators to take incredible experiences, like the wildlife of South Georgia, into the classroom so students could see it for themselves.
Kaitlyn says that early career researchers like herself can often struggle with confidence, but programmes like this expedition can help challenge them.
"I think that doing something a little bit out of the ordinary gives you an opportunity to challenge yourself in a different way and to play with feelings of adventurousness, exploration, and discovery."
Even pre-departure, Kaitlyn has experienced the feeling of exploration seeping into her work.
Kaitlyn says she comes from a family with a strong sense of wanderlust, and the expedition is something she could imagine her grandparents signing up for.
"My grandfather actually got a fake ID so he could sign up a year early for the Merchant Marine. He wanted to travel the world and work on a ship so he went off on adventures."
Kaitlyn adds that her grandmother was a nurse in the Navy, travelling the Arctic and working on ships up there.
The Inspiring Explorers™ will sail to South Georgia on tourism operator Antarctica21's ship, the Magellan Explorer between 30 September and 14 October.
Keep an eye on our social media accounts for updates from Kaitlyn as well as the Antarctic Heritage Trust's channels.
Source: Royal Society Te Apārangi