News
Published 4 May 2023
JRSNZ special issue call for papers: Renewable energy: Enabling a just transition in Aotearoa New Zealand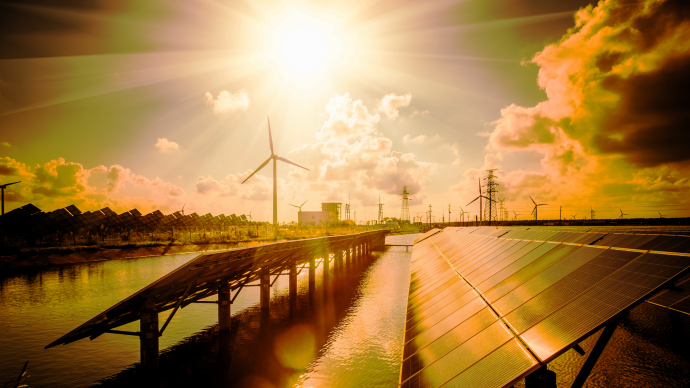 Image credit: Te Herenga Waka—Victoria University of Wellington
The Journal of the Royal Society of New Zealand is calling for papers for a 2024 Special Issue entitled 'Renewable Energy: Enabling a just transition in Aotearoa New Zealand'.
The global transition to more effectively utilise renewable energy resources has gained significant momentum, driven by the need to mitigate climate change and reduce dependence on fossil fuels. Renewable energy technologies and systems have seen significant growth and investment, and are now increasingly considered economically competitive with traditional, non-renewable resources. The continued growth of renewable energy is critical to achieving global climate targets and ensuring sustainable development.
Aotearoa New Zealand has made significant progress towards achieving its goal of 100% renewable electricity by 2030, with renewables now accounting for over 82% of its electricity generation on an annual basis – putting the country ahead of the global average of nearly 29% in 2021. However, MBIE reports that the share of energy supply from renewables was just over 40%, which highlights the challenge of decarbonising the entire energy sector in the face of climate change and with projected growth in demand. Addressing this challenge requires further research and development in renewable energy technologies and systems, considering technical factors such as the variability of non-dispatchable renewable energy sources, the economics of distributed and utility-scale energy storage solutions, and complex grid integration requirements, to name a few. The necessary societal behavioural changes, the impact of the required transition, and supporting regulatory and policy frameworks are other significant issues that need further investigation.
Royal Society Te Apārangi recognises the need to provide a comprehensive overview of the latest advancements in renewable energy technologies and systems, with a focus on their integration into modern energy systems, which this special issue of the Journal of the Royal Society of New Zealand focusses on – to be published in late 2024. The geographical focus is mostly Aotearoa New Zealand, but can include papers on the South Pacific or other nearby regions. The Journal is seeking to publish around 10 papers in total in the special issue.
Submissions are invited with original contributions to fundamental and applied research related to renewable energy. The special issue will be compiled into the following themes:
Technological innovations.
Systems modelling and analyses.
Social and economic implications.
According to the themes, potential topics of papers in the special issue may include (but are not limited to) the following:
The impact of renewable energy systems on society, the economy, and environments.
Behavioural change to support the uptake of renewable energy systems.
Demand-side management, demand response, and energy efficiency.
Optimisation of integrated renewable energy technologies with storage options to meet future demand, including the use of advanced artificial intelligence and machine learning techniques.
Analyses of the required technical system transformations to support renewable energy uptake, including applications of Blockchain and IoT for secure and efficient communications in smart grid.
New renewable energy technologies and systems for future applications.
Renewable energy policies and regulations.
Application of the principles of mātauranga Māori to renewable energy systems.
The guest editorial team includes Prof. Alan Brent (VUW), Prof. Patrick Hu (Auckland), Dr. Anna Berka (Massey) and Prof. Dan Zhao (Canterbury).
If you're affiliated with any of the 42 universities in Australia and Aotearoa New Zealand, you may publish your articles Open Access at no cost to yourself in the Journal of the Royal Society of New Zealand. Find out if you're eligible.
Submission information
Please submit your Expression of Interest (EOI) to Prof. Alan Brent, the lead guest editor, by 30 Pipiri June 2023, via email at alan.brent@vuw.ac.nz. Your EOI should encompass a preliminary title, a list of potential authors, and a fully formed proposal. The proposal should outline specific research questions and methodology. Additionally, you may choose to include complete draft papers, incorporating indicative results and findings.
Please note that the Journal's regular Instructions for Authors apply. Research article should be in the region of 5,000 words (excluding references). Reviews are thoroughly documented, comprehensive assessments of a particular area limited to 8,000 words, including references. Longer papers are welcome although authors must first contact the lead guest editor.
The guest editors will make a decision on which manuscripts to invite for the special issue. Authors will be notified by 17 July 2023.
The anticipated date of publication is December 2024 and the anticipated manuscript submission deadline is 29 Huitanguru February 2024.
Note that an invitation to submit does not guarantee acceptance for publication; this will depend on the outcome of the peer-review process and authors meeting critical time schedules. Please direct queries to the Guest Editors or to the Publishing Team of Royal Society Te Apārangi.
Source: Royal Society Te Apārangi