News
Published 8 September 2022
JRSNZ call for papers: Special issue on fossil vertebrates from southern Zealandia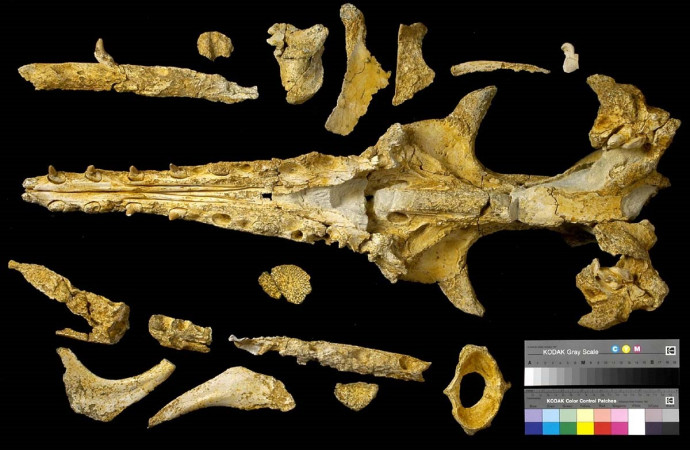 Tokarahi Archaeocete. Image credit: R E Fordyce
The Journal of the Royal Society of New Zealand invites submissions for a special issue on fossil vertebrates from southern Zealandia.
Vertebrate fossils from Aotearoa New Zealand have revealed the global significance of Zealandia on the origins of modern birds, the history of cetaceans during major climatic events of the Cenozoic, and the evolution of cartilaginous and ray-finned fish. Internationally-important collections of vertebrate fossils are housed in collections across Aotearoa and attract researchers from around the world studying evolution, biogeography, and climate change.
This special issue of the Journal of the Royal Society of New Zealand celebrates the vertebrate fossils of Aotearoa by showcasing taoka (treasures) that are significant to the global and local story of vertebrate history. The history of Royal Society Te Apārangi and the taxonomic infrastructure of Aotearoa intertwine, as Society past presidents and notable geologists Captain F.W. Hutton, James Hector and William Benham collected and studied many specimens now accessioned into institutions across the country.
We invite the submission of papers concerning taxonomic descriptions, paleobiological and functional analyses of Zealandia vertebrates (cetaceans, birds, fish); and review papers discussing vertebrate material in wider contexts, including the importance of New Zealand fossils for the understanding of major paleobiogeographic events. Purely taxonomic papers (such as species descriptions without a broader systematic or evolutionary context) will not be considered for publication.
The guest editorial team includes Dr Carolina Loch (Otago), Dr Daniel Thomas (Massey) and Dr Jeffrey Robinson (Otago).
Submission information

Please email a preliminary title, list of potential authors and a short descriptive paragraph (300 words) outlining the scope of your proposed manuscript by 1 Whiringa-ā-rangi November 2022 to zealandiafossils@gmail.com.
The guest editors will make a decision on which manuscripts to invite for the special issue and authors will be notified by 15 Whiringa-ā-rangi November 2022.
Note that an invitation to submit does not guarantee acceptance for publication, which will depend on the outcome of the usual peer-review process and authors meeting critical time schedules.
The anticipated manuscript submission deadline is 1 Pīpiri June 2023, with the aim of getting the special issue formally published in early 2024. Individual articles will be published online with a DOI before appearing in the compiled special issue.
Source: Royal Society Te Apārangi