News
Published 4 April 2023
JRSNZ call for papers: special issue on Hearing and balance research in Aotearoa New Zealand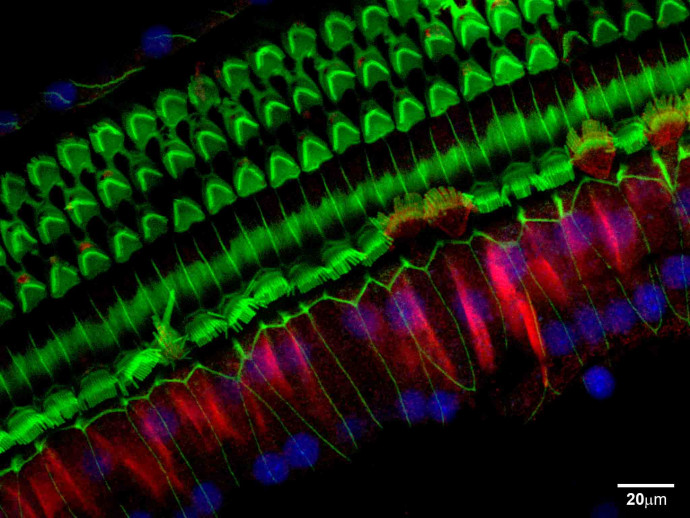 Microscopy image of auditory hair cells in the inner ear organ for hearing (cochlea). Image credit: Haruna Suzuki-Kerr
This special issue of the Journal of the Royal Society of New Zealand invites submissions with a focus on recent hearing and balance research in Aotearoa New Zealand.
The Journal of the Royal Society of New Zealand is calling for papers for this special issue, planned for release in 2024 entitled Hearing and balance research in Aotearoa New Zealand.
The Journal of the Royal Society of New Zealand wishes to bring together research from New Zealand's auditory and vestibular research community in a special issue of our Journal. The issue aims to highlight key past findings and the latest research undertaken in Aotearoa New Zealand in the fields of Auditory and vestibular neuroscience, Audiology, Otology and Acoustics. The special issue will address how hearing and balance disorders impact individuals across the lifespan and how they affect our communities. We invite submissions that can inform policy, describe the role of hearing and balance in the health of our population, as well as basic and clinical research.
We seek a mix of quality manuscripts including original research but in particular review manuscripts that pull together national expertise in key topics of interest (for example Auditory and Vestibular neurophysiology, diagnosis and rehabilitation, auditory processing, tinnitus, hearing aids and cochlear implants, pharmacotherapy, new and emerging scopes of clinical practice). We encourage submissions that encompass a range of methods, including behavioural, electrophysiology, imaging and Kaupapa Māori research methodologies.
The issue will be of particular interest to researchers and clinicians in fields of Audiology, Otology, Neurology, Nursing, General Practice, Education and will be informative to other stakeholders across society.
The guest editorial team includes Prof. Grant Searchfield (Auckland), Prof. Greg O'Beirne (Canterbury), Prof. Suzanne Purdy (Te Rarawa, Ngāi Takoto), Prof. Peter Thorne (Auckland) and Prof. Paul Smith (Otago).
If you're affiliated with any of the 42 universities in Australia and Aotearoa New Zealand, you may publish your articles Open Access at no cost to yourself in the Journal of the Royal Society of New Zealand. Find out if you're eligible.
Submission information
Please send a preliminary title, indicative author list, affiliations and a short descriptive paragraph outlining the scope of your proposed manuscript as soon as convenient to the Managing Guest Editor of the special issue, Prof. Grant D Searchfield (g.searchfield@auckland.ac.nz) by 19 Haratua May 2023.
Authors will be notified of the result and formally invited for full submission by 9 Pipiri June 2023. The anticipated manuscript submission deadline is 31 Kohitātea January 2024 with the aim of getting the special issue formally published in the second half of 2024. Following acceptance, individual articles will be published online first with a DOI before they appear in the special issue.
Acceptance for publication will depend on the outcome of the normal peer review process and authors meeting critical time schedules. See Instructions for Authors on the journal homepage before making a formal submission to the Journal of the Royal Society of New Zealand if your EOI is selected.
Source: Royal Society Te Apārangi