News
Published 26 May 2021
JRSNZ special issue call for papers: The current and future state of child health and welfare/wellbeing in Aotearoa New Zealand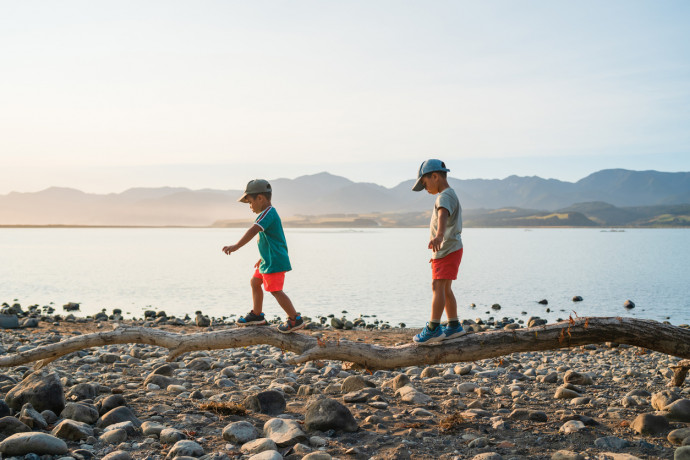 Kids enjoying outdoors at Lake Wairarapa, Wairarapa Region, New Zealand.
This special issue of the Journal of the Royal Society of New Zealand invites submissions with a primary focus on the health and wellbeing of the tamariki children and rangatahi young people of Aotearoa New Zealand.
The Journal of the Royal Society of New Zealand is calling for papers for this special issue, planned for release in late 2022/early 2023 entitled 'The current and future state of child health and welfare/wellbeing in Aotearoa New Zealand'.
Childhood is a stage of growing, learning and development. Our tamariki and rangatahi are our leaders of today, and the future of New Zealand. Yet, there are more and more pressures and factors that our tamariki and rangatahi face and that may adversely impact upon their health and wellbeing.
These factors include public health issues such as poverty and overcrowding, rising health inequities (especially for Māori and Pasifika children), the rights of children and young people, impacts of technology, climate change, changing patterns of disease and many others. These factors may impact on education, nutrition, development, health (physical, mental or dental) and may also have long-term impacts beyond childhood and adolescence.
This special issue will have particular relevance to practitioners and researchers working directly in the fields of child and youth health, growth, development, physical and mental wellbeing and disability. It will also be relevant to individuals interested more broadly in fields such as education, social services, public health, mātauranga Māori-informed interventions to improve outcomes for tamariki and rangatahi Māori, and health and disability policy. The issue will include original research papers and reviews, covering a wide range of relevant topics.
The guest editorial team includes Professor Andrew Day (University of Otago Christchurch), Professor Stephen Robertson FRSNZ (University of Otago), Dr Paula Toko King,Te Aupōuri, Te Rarawa, Ngāpuhi, Ngāti Whātua, Waikato Tainui, Ngāti Maniapoto (University of Otago Wellington), Professor Sally Merry (University of Auckland), Ms Tahirah Materoa Moton, Ngāti Maniapoto (University of Auckland) and Professor Stuart Dalziel (University of Auckland).
Submission information
Please send a preliminary title, indicative author list including hapū, iwi (or other Indigenous) affiliations and a short descriptive paragraph outlining the scope of your proposed manuscript as soon as convenient to the chief guest editor of the special issue, Professor Andrew Day (andrew.day@otago.ac.nz) by Friday, 2 July 2021.
The anticipated manuscript submission deadline is 31 December 2021 with the aim of getting the special issue formally published in late 2022/early 2023. Following acceptance, individual articles will be published online first with a DOI before they appear in the special issue.
Acceptance for publication will depend on the outcome of the normal peer review process and authors meeting critical time schedules. See instructions for authors on the journal homepage before making a formal submission to the Journal of the Royal Society of New Zealand if your EOI is selected.
Please direct any queries to Prof Andrew Day and Dr Paula Toko King.
Source: Royal Society Te Apārangi