News
Published 11 October 2018
Kids earn new award for swamp project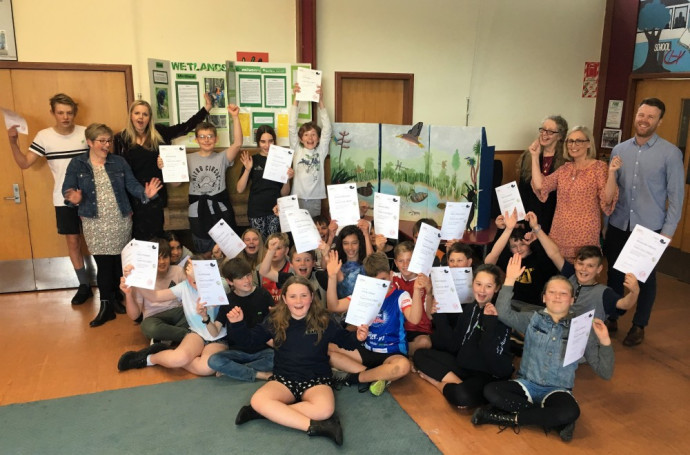 Students in rural Taranaki are the first in Aotearoa to achieve a CREST award through the Participatory Science Platform.
Originally published on Curious Minds
The very first recipients of a CREST Award achieved through the Participatory Science Platform (PSP) are Year 7 and 8 students at Egmont Village School for their work on the project Bug Alert!
The students surveyed swamps in Purangi to investigate whether an increase in the number and variety of wetland plants would lead to an increase in the abundance and diversity of aquatic and flying bugs (also known as invertebrates - animals without a backbone).
With guidance from project leaders Louise McLay and Karen Schumacher at Purangi Kiwi the students counted the number and variety of plants and bugs in the same three areas of Purangi that Kaimata School surveyed in 2017.
"I liked counting the bugs at Purangi," says Chelsea, 12. "I knew that we'd find some but I was really surprised at just how many different types we found."
While there was some variation in results (due to some areas having storm damage) the students still found an overall trend that the more plants there are, the higher the abundance and diversity of bugs.
The plan for next year, the students say, is to compare their results with those from other schools in addition to Kaimata School and monitor how the storm-damaged sites are recovering.
"It's so cool that we're not just sitting around in the classroom talking about it, but actually doing it," says Riley, 13. "I'll definitely keep going with this because I want to find out what happens next."
Nanuk, 13, adds, "I really enjoyed doing the planting, which should get more wildlife in."
After the project was completed and the students had shared their findings in a presentation, they were each awarded a CREST badge and certificate in recognition of their hard work.
"I loved getting the certificates - it was a really nice surprise!" says Faith, 13. "I'll probably do another CREST at the next level, as this was great."
Teachers of students who have completed a PSP project are eligible to apply for a student Participatory Science Platform and CREST Award.
CREST is a Royal Society Te Apārangi awards scheme designed to encourage students to solve problems in science, technology and environmental studies - either individually or as teams - at five levels of difficulty.
Students begin with small entry-level projects and build up to large research or technological practice projects that can take up to 18 months at Gold level, and have the potential for major new discoveries.
"The best part about this project is that it's inspired other classrooms in the school to start thinking about things to investigate," says Raewyn Rutherford, principal at Egmont Village School. "So it's actually had an impact across the whole school, not just for the students doing the project."
Source: Curious Minds