News
Published 18 July 2018
Kiwi young naturalist team wins bronze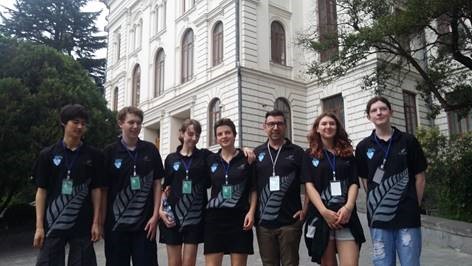 From left to right: Asher Wilkinson, Tom Divehall, Millie Rea, Ella Blakely, Murray Chisholm, Alexandra Cochrane and Lydia Acton
The New Zealand team of six teenagers returned home as medal winners on July 14 from the 6th International Young Naturalists Tournament (IYNT) in Tbilisi, Georgia.
The International Young Naturalists Tournament, this year held in Georgia's capital city of Tbilisi is the world championship across the diverse fields of natural science for under-17-year-old students.
The New Zealand team members Asher Wilkinson (16), Tom Divehall (16), Millie Rea (16), Ella Blakely (15), Alexandra Cochrane (15), Lydia Acton (15) and their team leader Murray Chisholm were supported by a Royal Society Te Apārangi Talented Students Travel Award and were assisted in their preparations for the tournament by various members of the science community in New Zealand.
The kiwi team led the tournament for the first two rounds and, as they ranked second entering their semi-final, they were in a favourable position to take out the win, which would have secured the gold medal for the second year in a row for New Zealand.
After a very narrow loss in the semi-final to Bulgaria, the kiwis were awarded third place after Switzerland won the final, with Bulgaria the silver medallists. Fifteen teams from nine different countries qualified to compete in the tournament and the New Zealand students, all from Wellington, had been fitting in their investigations around their NCEA studies since their selection in the team in February.
Unlike Olympiad competitions, where textbook knowledge is examined, the IYNT tournament requires students to complete extended investigations prior to competing. During 'Science Fights' in each round of the tournament, a participant from one team will report their theoretical and experimental solution to one of the problems. A participant from a second team will then critique the report before debating its merits with the reporter in the discussion phase. A panel of jurors then awards scores after further examining the participants' scientific understanding through interrogation.
Scoring highly requires excellent creativity, communication, the ability to present and refute logical arguments and a deep understanding of the science that applies to each problem.
The next tournament is the International Young Physicists Tournament (IYPT) to be held at Renmin University of China from July 19-26 2018, where the New Zealand team will compete against 29 other countries. The students in the team were chosen after regional and national tournaments were held in March. Students wishing to compete in either the IYNT or IYPT next year should encourage their school to enter national qualifying tournaments next March.
For further information
Source: Royal Society Te Apārangi