News
Published 13 September 2018
Kupu: Take a photo, learn a language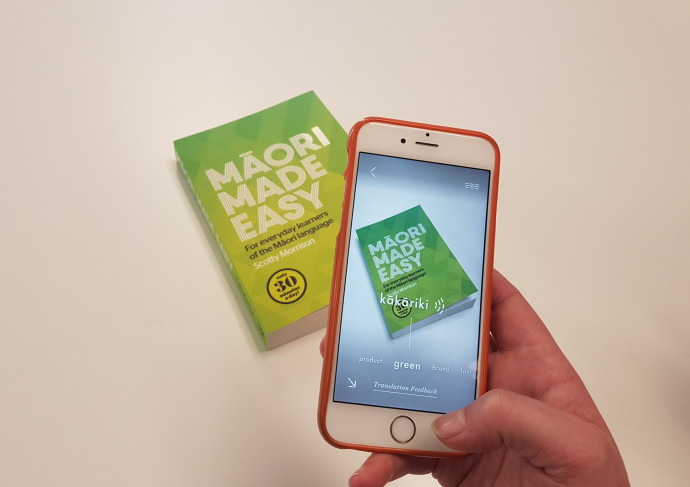 To celebrate Te Wiki o te Reo Māori, Royal Society Te Apārangi staff have been putting the new interactive mobile app Kupu to the test with a variety of objects in the office - including a 6,000 year-old moa bone.
The Kupu app has been launched this week by Spark, Te Aka Māori Dictionary and Google to support the revitalisation of te reo Māori. It uses image recognition software to identify objects in the picture and provide translations.
Lisa Paraku, Spark Business Manager - Māori, says Spark wants to get more people engaged and using te reo Māori every day, and would love every New Zealander to have a tool in their pocket to help them learn te Reo Māori.
"We see the Māori language and culture as special and unique to New Zealand, so we want to play a small role in helping te reo Māori prosper through the use of digital platforms," says Paraku.
Dr Dean Mahuta, Senior Lecturer at AUT and Māori language researcher at Te Ipukarea, the National Māori Language Institute, has been a key advisor on the Kupu project - working alongside Te Aka Māori Dictionary and Spark to ensure Kupu showcases te reo Māori correctly.
"Using technology and digital platforms is a great way to encourage the use and learning of Te Reo Māori. Te Aka Māori Dictionary has over 300,000 visitors to its website per month, with over 50% of those visitors being new users."
Kupu uses Google Cloud Vision backed by Te Aka Māori Dictionary data, powered by Google's Artificial Intelligence technology.
"We aim to inspire New Zealanders to explore te reo Māori and encourage them to add more te reo words to their everyday vocabularies," says Tara McKenty, a creative director at Google.
"It would be amazing if, as a nation, we could learn together through an immersive interactive experience - one picture and translation at a time. Just learning a single word each day can collectively have a huge and lasting impact on our collective knowledge of te reo Māori."
Kupu is made with Google technology that's constantly learning and iterating. The app will improve its existing translations with the moderated feedback it receives over time. The project team is also working with Te Aka Māori Dictionary to increase the accuracy of Google Translate.
So how did it do when we put it to the test in the office this week? Pretty well was the verdict, with some room for improvement.
We even got to test the app on a real artefact: a 6,000-year-old bone of a South Island Moa brought into the office by researcher Dr Nic Rawlence from the Department of Zoology at the University of Otago. He said the moa would have been a male teenager; perhaps fitting then that the app's first guess when Nic was holding it up was "drink" as it does look a little like a yard-glass. Read more about Nic's work on Sciblogs: Lost worlds, vanished lives.
Check out our photo gallery below for the objects from our office that we tested.
Other useful apps for learning te reo are Te Pou Herenga from Callaghan Innovation and Auckland technology company Kiwa Digital and the Pepehā App by Te Māngai Pāho and Kiwa Digital, which helps learners write their pepehā.
For those wanting to set up a staff waiata group, RNZ's Yadana Saw has lots of tips. Kaiako at Te Papa, Joan Costello has some useful pronunciation tips and RNZ has put together a collection of Kīwaha colloquial sayings.
Source: Royal Society Te Apārangi