News
Published 23 August 2023
London International Youth Science Forum broadens mind towards neuroscience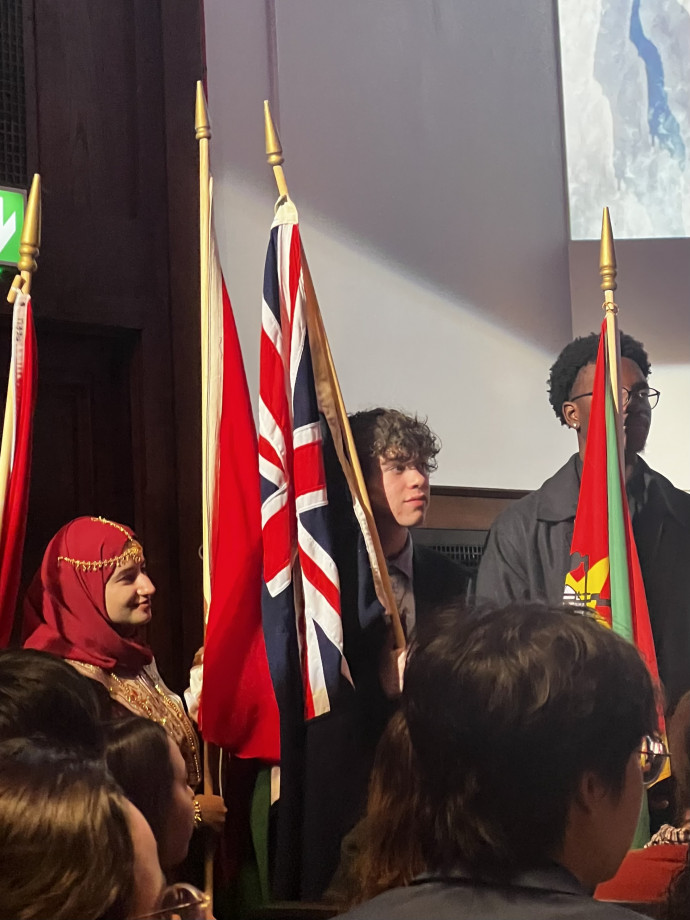 Luca Ririnui (centre) at opening ceremony for London International Youth Science Forum
Luca Ririnui from Mount Maunganui College was one of three students Royal Society Te Apārangi supported to attend the London International Youth Science Forum last month – a summer residential school that connects the world's brightest rangatahi with Nobel Prize winners, and top UK universities.

A total of 500 students from 75 different countries gathered in London for the two-week camp, held at Imperial College London.
Luca was joined by Kaita Jibiki from Tawa College and Joseph Bahoo from Sacred Heart College.
Luca says the experience has left him "optimistic and hopeful" for the future of STEM, and with a growing interest in neuroscience.
He says his favourite lecture from the forum was Professor David Nutt from Imperial College London speaking about the use of psychedelic drugs to treat mental illness.
"This was a fascinating dive into the neuroscience behind how these drugs operate, and interestingly we learnt that psychedelics don't activate areas of the brain - they actually supress them.
"By dampening the Default Mode Network, they halt our visual processing, which means we only see the 'base settings' of colours and shapes that don't actually correlate with stimuli from the environment," Luca says.
He explains that the "kaleidoscopic visuals" that people see when taking psychedelic drugs are not caused by the drugs themselves, but rather are "baked into the core of our brains –only unearthed when the drugs remove the layers that cover them up".
Luca says the lecture attendees also learnt that psychedelic drugs are a promising method of treating depression.
"By decreasing activity in the Default Mode Network, the brain becomes more interconnected, allowing different regions to communicate with each other where they had not been before."
Luca says the lecture was eye opening to him, as he is strongly considering studying neuroscience at university, so it only strengthened that idea and made him more exited about the field.
"Before heading off to London, I was very unsure on which area of science I wanted to go into… through the variety of lectures and research visits, I've had the invaluable opportunity to refine my ideas for future subjects."
He says while watching the physics, engineering, and space orientated lectures – he was interested in the content, but decided that those fields were not ones he could see himself pursuing for a career.
"I was pulled closer to studying a subject in the biochemistry, medicine, or neuroscience fields by the experiences we were exposed to. This is incredibly helpful for me to guide my pathway through the remainder of 2023 and 2024 to attend a university where I can study in one of these areas at the highest calibre."
Luca says he had a cynical view of the world of scientific research and academia before he saw it for himself.
"I assumed that most research in science was slow, costly, and eventually fruitless the majority of the time, so it wasn't a field necessarily with much personal benefit in going into."
Luca says that while these issues can still exist, the forum showed him that scientific research is a varied and vibrant field, proving to create rapid development.
He says it has given him hope for exciting new frontiers that will be the focus of science when he has finished his studies.
Forums like the London International Youth Science Forum are important to provide opportunities to connect with other young scientists around the world and unite them in common goals, Luca says.
He says he was able to form close friendships with students from across the world: "and I know that these are friendships that will last for years to come".
Luca says being surrounded by peers with drive, passion, and intellect is empowering and a great source of motivation.
"Coming back to New Zealand after my time with these people has ignited my love for science and only made me more dedicated to my studies and more open to opportunities that can challenge me."
Source: Royal Society Te Apārangi