News
Published 16 August 2017
Making a difference: the story of Dr Ahsan Nazer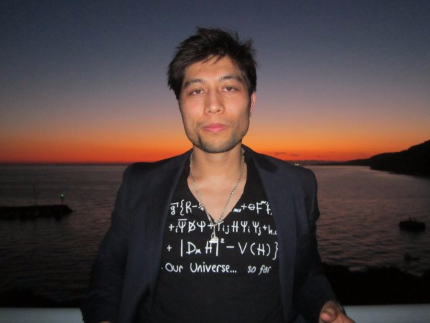 Professor David Wiltshire from UC's School of Physical and Chemical Sciences updates us on UC alumnus, and Marsden Fund PhD student, Dr Ahsan Nazer
Originally published as a Student Success Story by the University of Canterbury on 8 August 2017
Dr Ahsan Nazer, who completed his PhD in cosmology at UC Physics and Astronomy in 2014, is about to make a brave career move. He is returning to Kabul to take up a position as Assistant Professor of Physics at the American University of Afghanistan (AUAF). Just one year ago that campus suffered an attack, with the loss of 19 lives. Nevertheless a dedicated team continues to teach there, doing their bit to rebuild this still troubled country.
The AUAF is a private university, largely supported by the US Agency for International Development, as well as private donations and help from other universities such as Stanford. It first opened its doors in 2006 and now has over 2,000 students, with close to 1,200 in degree programmes. It teaches a US style university curriculum in English by academics from all over the world.
At the end of this month, Ahsan will be joining a small Department of Science and Mathematics, where there are a couple of fellow physicists who till now have mostly been teaching mathematics to students in non-science disciplines. Ahsan will oversee the introduction of first year physics. He will be the first Afghan-born academic with a PhD to join the department.
Ahsan became a New Zealand citizen after moving to Christchurch as a teenager in 2004. He came under a family unification scheme. His brother had been a refugee on a sinking boat trying to get to Australian waters, rescued by the Norwegian ship MV Tampa in 2001. In an infamous diplomatic dispute just before an Australian election, the Tampa was turned away by Australian armed forces, but many of the refugees were accepted by New Zealand.
Sixteen years later Ahsan's story is a testament to the value of a humane immigration policy and our public education system. At a time when another group of refugees stranded on Manus Island have again become pawns in a game of political expediency, his story is particularly poignant.
Ahsan did his final two years of school at Hagley Community College where he finished as Dux. He gained First Class Honours in Physics 2009, and went on to do a PhD funded by an external Marsden grant.
His PhD involved a lot of very hard work, which resulted in a non-standard model of the Universe, the "timescape", being tested for the first time against data from the Planck Surveyor satellite mission. That data encodes information about the early Universe from tiny fluctuations in the radiation of the Cosmic Microwave Background, radiation that was released when the first atoms formed from the primordial plasma 380,000 years after the Big Bang.
Ahsan's project involved a "from first principles" recoding of modules of large computer programs that had been developed by many physicists over nearly two decades (for standard cosmology). At UC we had no one with experience in the coding, and so Ahsan attended international cosmology schools and sought out the relevant experts. That meant one set of challenges, the 2011 earthquakes another. Ahsan was one of the students who took advantage of the exchange offered to us by the University of Oxford.
Having gained his PhD, Ashan applied his experience with the physics of waves in the primordial plasma to studying seismic waves in engineering problems. For the past couple of years he has been employed as a postdoc in UC's QuakeCoRE. His work on computer models for seismic wave propagation under Professor Brendan Bradley is a part of the effort of helping this country understand its seismic risks.
Now Ahsan is embarking on an even more challenging journey, but one that will, I hope, bring him immense personal satisfaction.
As with many who have been touched by the trauma of war, Ahsan never talked much about the past but just got on with making the most of opportunities when he had the chance. It's something I understand well since my own mother was twice displaced by fighting in World War II, losing her father and brother. Like Ahsan she went on to become the first one in her family to get a university education.
Comparing such experiences to the comfortable lives we lead, I sometimes feel cynical about the glitzy corporate billboards that adorn the entrances to our University. But actually, often those messages are spot on. Ahsan's story is one example of what it means to make a difference.
Dr Ahsan Nazar was a PhD student on David Wiltshire's Marsden grant UOC0804 "Gravitational energy and cosmic structure: What is the Universe made of?"
Source: University of Canterbury