News
Published 7 April 2023
Meeting with Human Frontier Science Program Organisation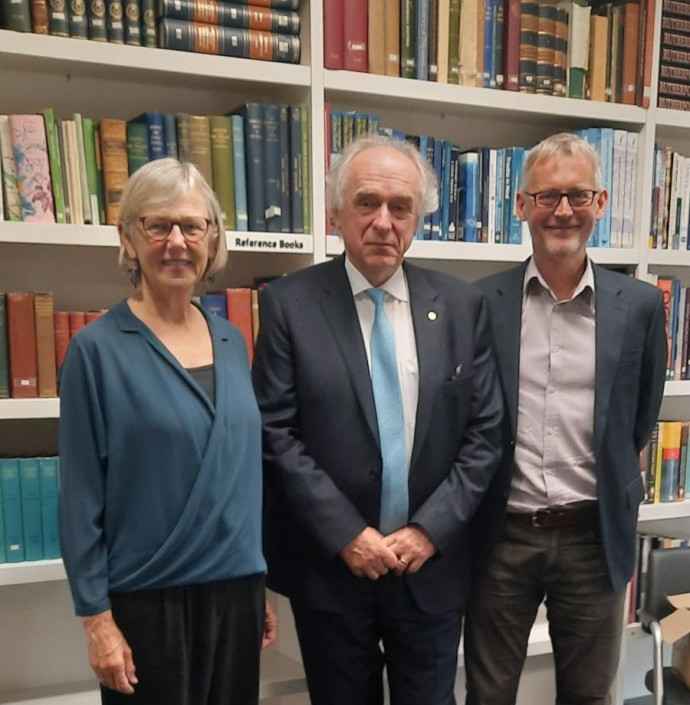 Gill Dobbie, Pavel Kabat and Troels Petersen at Royal Society Te Apārangi
Recently we had a visit from the Secretary-General Professor Pavel Kabat of the International Human Frontier Science Program Organisation (HFSP).
New Zealand's membership to the programme was established in 2004, one of 17 member countries.
Professor Kabat's visit to Aotearoa New Zealand was to both meet and promote the proposed 2024-2032 HFSP Strategic Plan to key scientific policy makers and members of the research community as HFSP prepares for the next strategic period of growth with a number of new initiatives planned.
During his visit, kaimahi staff facilitated meetings with Royal Society Te Apārangi Chief Executive Paul Atkins, Marsden Fund Chair Professor Gill Dobbie FRSNZ, Prime Minister's Chief Science Advisor Dame Juliet Gerrard FRSNZ as well as staff at the Ministry of Business, Innovation and Employment and the Health Research Council of New Zealand.
The mission of the HSFP is to support basic research at the frontiers of the life sciences in the form of research grants for collaborations between laboratories in difference countries and postdoctoral fellowships for scientists wishing to extend their expertise in a laboratory abroad.
The highest international standards of scientific excellence and creativity guide the selection of HSFP awards. See more: www.hfsp.org
Source: Royal Society Te Apārangi