News
Published 21 June 2021
New Editor-in-Chief of the Journal of the Royal Society of New Zealand announced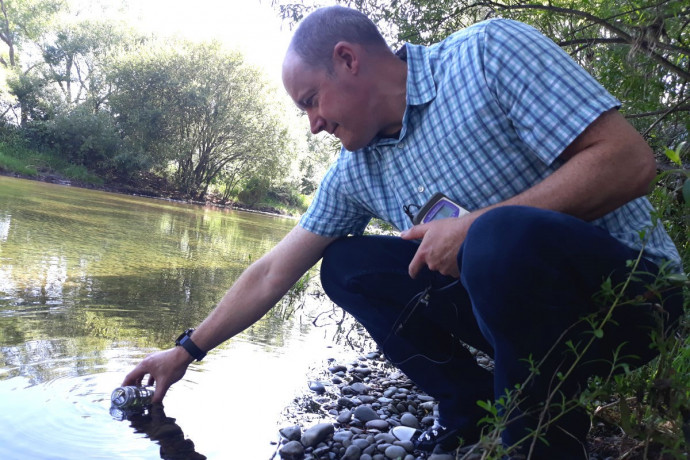 Professor Richard McDowell FRSNZ has been appointed as Editor-in-Chief of the Journal of the Royal Society of New Zealand. Richard, a world-leading scholar working across land and water resources, will take over the post from Professor R Ewan Fordyce FRSNZ on 1 July 2021.

Richard McDowell is a Principal Scientist at AgResearch and a Professor at Lincoln University. He has been the Chief Scientist for the Our Land and Water National Science Challenge since 2014, leading a cohort of 200 scientists to form transdisciplinary teams in mission-led research that includes biophysical scientists and social researchers working alongside Māori partners and stakeholders.

His work is concerned with environmental science and policy, soil science, hydrology, social indicators, economic analysis, and microbiomes. He has published widely and pioneered work on the targeting of critical source areas of contaminant losses in catchments. This work has used in New Zealand and overseas in policy and in industry guidelines to improve water quality.

Royal Society Te Apārangi Chief Executive Professor Dame Cynthia Kiro said the Society is delighted to announce the appointment.
"We are honoured that Professor Richard McDowell has accepted the position of Editor-in-Chief for our leading journal. His experience as Chief Scientist for the Our Land and Water National Science Challenge, located in AgResearch, is testament to his outstanding contribution to an area of critical importance to the country at a time when we need even more well informed public debate around our environment and how we sustainably live in it. His vision to raise the voice of medal winners, increase dialogue with those from te ao Māori and increase transdisciplinary specialisms that reflect the complexity of what we are dealing with, will strengthen our journal and public debate."

The Journal of the Royal Society of New Zealand (JRSNZ) is the Society's flagship multidisciplinary title, as well as New Zealand's oldest learned periodical, continuing from the Transactions and Proceedings of the New Zealand Institute, first published in 1868. The journal's content spans science, mātauranga Māori, technology and the humanities.

On why he applied for and accepted the role, Richard said: "I undertook to become the Editor-in-Chief of Journal of the Royal Society of New Zealand to help cement its place as a talisman for documenting scientific excellence in Aotearoa New Zealand. The journal's scope has adapted along with the aims of Royal Society Te Apārangi to reflect a wide diversity of thought and disciplines. As the longest running scientific journal in New Zealand, I am conscious to capture this diversity to show how scientific advancement can better society."

Richard is a Fellow of Royal Society Te Apārangi, being elected in 2017. He is also a Fellow of the New Zealand Society of Soil Science. He won the Norman Taylor Memorial Lecture awarded for outstanding contributions to soil science. He sits on science advisory panels and boards for various organisations, such as Queens University Belfast and the OECD Temperate Agriculture Network. He is currently an Associate Editor of the New Zealand Journal of Agricultural Research, a Royal Society Te Apārangi journal, and Marine and Freshwater Research, and past editor for the Journal of Environmental Quality.

Outside his professional work, Richard has an interest in strolling around our native bush, building furniture and was once the co-captain of an (un)competitive wine tasting team, called the Wine Blacks.

Programme Manager for Publishing at Royal Society Te Apārangi, Fei He said he was "thrilled to welcome Professor Richard McDowell to the whānau of JRSNZ. Richard is an outstanding choice, bringing a wealth of experience from leadership roles from large-scale national-level research projects. His research achievements are exemplary and interdisciplinary, which are the characteristics the journal pursues. His leadership and strategic vision will shape and advance the journal's mission of showcasing excellent output from across the entire New Zealand research community and enhance the journal's reach and impact."

"I'd like also to take this opportunity to thank Professor Ewan Fordyce for his remarkable directorship of the journal since 2015, during which time he has introduced a series of strategic changes to JRSNZ that have rejuvenated the journal and reinforced its position as a premium, multidisciplinary outlet for high-quality, diverse and influential research."
Source: Royal Society Te Apārangi