News
Published 5 April 2018
New issue of the New Zealand Journal of Zoology now available online
Volume 45, Issue 2 of the New Zealand Journal of Zoology is now available online. This issue includes a review of how ancient DNA from extinct creatures such as the moa and laughing owl have contributed to knowledge of our unique New Zealand fauna.
A review article in this issue, titled "The ancient DNA revolution: the latest era in unearthing New Zealand's faunal history" by Theresa L. Cole and Jamie R. Wood of Long Term Ecology Lab (LTEL) at Landcare Research Ltd reviews how ancient DNA analyses have significantly advanced our understanding of New Zealand's unique fauna.
Since the first extraction of DNA from the extinct moa 25 years ago, ancient remains have provided new information about the evolutionary histories and phylogenetic relationships of New Zealand's animals, as well as shed light on the impact that human activities have had on animal populations.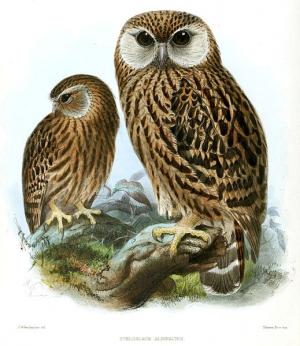 DNA sequences have been extracted from a number of New Zealand fauna including the moa, the yellow-eyed penguin and the laughing owl, using a range of samples such as bones, feathers, fossilised dung and fragments of eggshells.
From these ancient DNA sequencing endeavours, new insights into many taxa in New Zealand prehistoric fauna were made and as technology becomes increasingly cheaper and more commonplace, a wider range of researchers are able to utilise modern DNA sequencing methods.
New applications of fast-advancing gene-editing technologies and ancient DNA extraction could include the potential to reintroduce genetic diversity into rare and threatened species, as well as play a key role in ensuring the survival of some of New Zealand's endemic fauna.
The possibilities of further applications, such as assisting conservation of endemic fauna, and some limitations to existing technology are explored in the full-length review along with many other fascinating articles in the new issue of the New Zealand Journal of Zoology, Vol 45 Issue 2 at Taylor and Francis Online.
Source: Royal Society Te Apārangi