News
Published 5 March 2018
New Zealand Journal of Botany and New Zealand Journal of Geology and Geophysics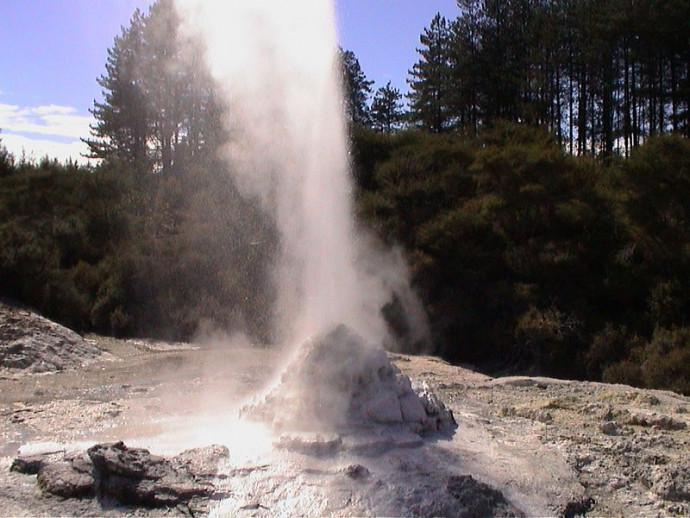 Lady Knox geyser, Taupo Volcanic Zone | wikimedia/David Broad
New issues of New Zealand Journal of Botany and New Zealand Journal of Geology and Geophysics are now available to read online at Taylor and Francis.
In the latest issue of New Zealand Journal of Geology and Geophysics Volume 61/1
A study authored by Suzanna van de Lagemaat et al is available for open access in the journal and investigates the location and origins of Murihiku Terrane during the early Jurassic period. Paleomagnetic samples from across the Murihiku Terrane were collected in the North Island, with some samples showing a signal that possibly recorded a primary remanent magnetisation, a relative timestamp of the earths magnetic field at the time of the samples formation. 
In another article, Sarah Milicich et al present a 3D hydrogeological modelling of the central Taupo Volcanic Zone, including seven geothermal fields. Six of these geothermal fields are currently used for power generation and account for 17% of New Zealand's power. By using a specialised software called Leapfrog Geothermal 2.8.1 detailed 3D models were created to easily integrate data into numerical fluid flow models and improve the way that results can be viewed and shared among non-specialist audiences. 
The articles are available for access here
In the latest issue of New Zealand Journal of Botany Volume 56/1
The first record of the quirky fungus Battarrea phalloides (Agariacaceae) in New Zealand was collected by Lara Shepherd and Jerry Cooper with an analysis of its family tree and evolution placing the stalked puffball fungus, sometimes known as the Sandy Stilt Puffball; as being within one of three branches of the B.phalloides species.
A review from Rachael Nepia and Bruce Clarkson summarising the biology and ecology of the distinctive North Island New Zealand endemic tree Tāwari (Ixerba brexioides), an interesting and striking bushy tree whose family is found only within New Zealand and New Caledonia. Tāwari also played a significant role in māori culture with its flowers being used for garlands and necklaces and its peak flowering time being used as a signal to harvest crops. 
The articles are available for access here
Source: Royal Society Te Apārangi