News
Published 9 January 2019
Margaret Brimble made a Dame and other New Year Honours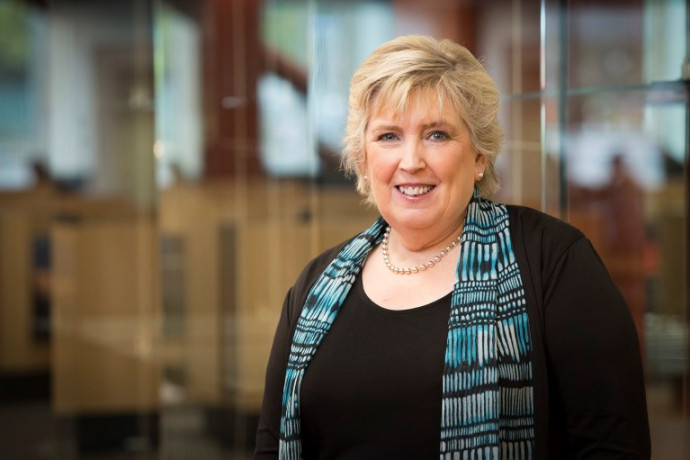 Dame Margaret Brimble DNZM FRS FRSNZ
Distinguished Professor Margaret Brimble was made a Dame in this year's New Year Honours for services to science. This tops off a stellar year where she became the first New Zealand-based woman scientist elected a Fellow of London's The Royal Society. A number of other people associated with the Society also received honours.
The official citation for Dame Margaret reads:
BRIMBLE, Distinguished Professor Margaret Anne, CNZM
For services to science
Distinguished Professor Margaret Brimble has made world-class contributions to research in medicinal chemistry and has been a key driver of the creation of a nascent drug discovery and development industry in New Zealand.
Professor Brimble is Chair of Organic Chemistry and Director of Medicinal Chemistry at the University of Auckland. She discovered the drug candidate NNZ2566, named Trofinetide by the World Health Organisation, which is currently in phase three human clinical trials for treatment of Rett Syndrome and Fragile X syndrome. She established New Zealand's first Good Manufacturing Practice Peptide Active Pharmaceutical Ingredient Manufacturing Facility that was licensed by Medsafe NZ and produced clinical grade antigens for the MELVAC melanoma vaccine trial in 2014. She is Principal Investigator in the Maurice Wilkins Centre for Molecular Biodiscovery. She was Chair of the Royal Society of New Zealand Rutherford Foundation from 2009 until 2016. She has supported the L'Oreal-UNESCO Women in Science Programme. Since 2014 she has held the roles of Vice-President and President of the Organic and Bimolecular Division International Union of Pure and Applied Chemistry (IUPAC). She has been a panel member of the European Research Council Synthetic Chemistry and Materials Science Advanced Grants Scheme since 2015. In 2018 Professor Brimble was the first New Zealand woman to be elected Fellow of the Royal Society (London).
MCMAHON, Dr Jennifer Anne (Jenny), MBE
Dr Jenny McMahon MBE CRSNZ, who was elected a Companion of Royal Society Te Apārangi last year, was appointed an ONZM for services to the Red Cross.
Official citation:
Dr Jenny McMahon was appointed a Member of the Order of the British Empire in 1993 for her services to welfare work.
Dr McMahon has been involved with the Red Cross since 1983 and has been National President of the New Zealand Red Cross since 2012. Prior to become President she was a member of the National Board for two years and had served on a former Regional Board. She is currently Patron of the Dunedin Red Cross branch and the Red Cross Choir. She is a member of the Advisory Board to the International Department of the University of Otago. She is a consumer representative on Mercy Hospital's Quality and Risk Committee and Chair of the National Science Challenge – Healthier Lives. Dr McMahon has worked with the Red Cross in a number of countries, including conducting work focusing on assessing nutritional needs as former Regional Nutritionist for Africa with the International Committee of the Red Cross.
WILES, Dr Siouxsie
Royal Society Te Apārangi Councillor and 2013 Callaghan Medal winner, Associate Professor Siouxsie Wiles was appointed a MNZM for services to microbiology and science communication.
Official citation:
Dr Siouxsie Wiles has been a microbiologist at the University of Auckland since 2009 and is head of the University's Bioluminescent Superbugs Lab.
Dr Wiles' work has included raising awareness of the growing threat of antibiotic resistant superbugs. She has authored a number of publications including the book 'Antibiotic Resistance: The End of Modern Medicine?' (2017). She was appointed a lecturer in the Department of Infectious Diseases and Immunity at Imperial College London in 2007. She has utilised a number of mediums to demystify science and raise awareness, including blogging, podcasts and collaborating on a series of animations highlighting the use of bioluminescence in science. Her more recent science communication projects include art exhibitions involving artists producing works using bioluminescent bacteria and a collection of large Petri-dishes, and a show about microbiology for kids co-hosted with her daughter Eve. She was one of eight scientists who fronted the 2012 public awareness campaign for the National Science Challenges. Dr Wiles has received a number of awards during her career and her work on Citrobacter rodentium culminated in winning the inaugural 3Rs prize from the United Kingdom National Centre for the Replacement, Refinement and Reduction of Animals in Research (NC3Rs) in 2006.
MCINTOSH, Professor Tracey Kathleen Dorothy
Former Co-Director of Ngā Pae o te Māramatanga and 2017 winner of the Society's Te Rangi Hiroa Medal, Professor Tracey McIntosh was appointed a MNZM for services to education and social science.
Official citation:
Professor Tracey McIntosh is a social science researcher and academic leader whose research has focused on social inequality and the experience of prisoners, particularly of wahine Māori, within New Zealand.
Professor McIntosh has held academic positions as the University of Auckland since 1999 and previously at the University of the South Pacific. At the University of Auckland she has served as Head of Department of Sociology and is the present Co-Head of Wānanga o Waipapa and Professor of Indigenous Studies. She visits prisons weekly and teaches creative writing to women at Auckland Regional Women's Corrections Facility. She has served on the Marsden Social Science Panel, The Rutherford Discovery Panel, the James Cook Fellowship Panel, MBIE Unlocking Curious Minds, HRC Rangahau Panel, and the PBRF Māori Knowledge and Development and Social Sciences Panels. She was the co-director of New Zealand Māori Centre of Research Excellence Ngā Pae o te Māramatanga. She is a member of the Welfare Expert Advisory Group and Te Uepū i Te Ora. She is a Board Director of te Ira, a service collaboration between People at Risk Solutions and Tūruki Health Care. In 2017 she was the recipient of the Te Rangi Hiroa Medal for advancing understanding of enduring social injustices that undermine Māori wellbeing, social cohesion and meaningful cultural diversity in Aotearoa.
HIPKINS, Dr Rosemary Collinge (Rose)
Dr Rose Hipkins, who has had a long-standing involvement with the Society's teaching and learning programmes, was appointed a MNZM for services to science education.
Official citation:
Dr Rose Hipkins is a teacher, teacher educator, and researcher who in 2016 received the New Zealand Association of Science Educators Peter Spratt Medal for sustained contribution to New Zealand Science education.
Dr Hipkins began her career as a secondary science and biology teacher. In 2001 she moved to the New Zealand Council of Educational Research (NZCER) where she was promoted to Chief Researcher in 2007. In this role she recognised the importance of communicating research findings in ways that support and help teachers to make a difference to student learning. She has led national research projects related to both curriculum and assessment innovation in New Zealand, provided workshops across the country, written articles for teacher audiences and worked with individual and groups of teachers within schools. In the field of research in education, she has served on many editorial boards. Her work is published widely in journals and she has edited and written chapters for a number of books on biology and science, curriculum, competencies/capabilities and assessment. She is frequently invited as keynote speaker at national and international conferences. In her role as Chief Researcher for the NZCER she has also provided advice to government agencies. Dr Hipkins was made a Fellow of the Society of Biology in the United Kingdom in 2013.
JONES, Professor Barbara Alison (Alison)
Professor Alison Jones, who was awarded the Society's Dame Joan Metge Medal in 2014, has been appointed a MNZM for services to education and sociology research.
Official citation:
Professor Alison Jones teaches in Te Puna Wānanga, School of Maori and Indigenous Education, at the University of Auckland, and has worked for more than 30 years in the field of sociology of education.
Professor Jones' areas of study have included feminist theory, an ethnographic study of Pacific Islands girls' schooling, social anxiety about touching children, and Māori-Pākehā educational relationships. She has been the author, editor and co-author of many research articles, as well as twelve books including 'He kōrero: Words between us – First Māori-Pākehā conversations on paper' which received several non-fiction and educational book awards in 2012, and 'Tuai: A traveller in two worlds' which won a prestigious Ockham New Zealand Book Award in 2018. She is a manuscript reviewer for several international journals and publishers. She has successfully supervised more than 70 postgraduate research projects, including 24 completions at doctoral level. Professor Jones has received a number of research and teaching awards during her career and was awarded the Dame Joan Metge Medal from the Royal Society of New Zealand in 2014.
Source: Royal Society Te Apārangi