News
Published 10 March 2021
He Taonga: Ngā Kete Mātauranga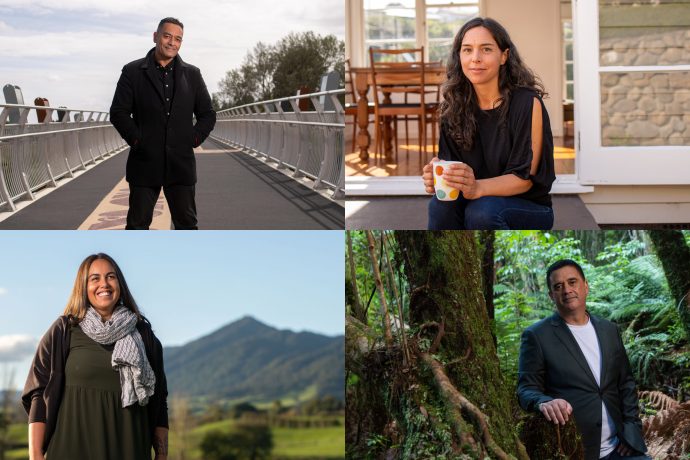 A new landmark collection 'Ngā Kete Mātauranga: Māori scholars at the research interface' features 24 Māori kaituhituhi writers who share their stories and journeys while revealing what being Māori means to them in their work, their communities and in their day-to-day lives.
Royal Society Te Apārangi and its communication's team is honoured and incredibly proud to have had the opportunity to support the authors' writing and provide the beautiful imagery of the kaituhituhi - many of whom opened up their homes and introduced whānau. Arohanui!
Unfortunately, the launch of Ngā Kete Mātauranga has been postponed from February until March 2021, due to recent changes in COVID-19 Alert Levels. In the lead up to the new launch date, we will be highlighting these inspirational authors and their kōrero every week in this newsletter and across our social media channels (see our Facebook, Twitter and Instagram).
Royal Society Te Apārangi President Professor Wendy Larner FRSNZ, provides a foreword in the book. She explains that this "beautiful and powerful collection" has grown out of a partnership with Ngā Pae o te Māramatanga to celebrate Māori scholars and to strengthen relationships between Māori and non-Māori research communities. "It is an enormous privilege to live and work in Aotearoa, and to be in a research environment in which Māori and non-Māori knowledges encounter each other on a daily basis There is much we can learn from each other. Nā tātou katoa - this is part of all of us."
The book is edited by Professors Jacinta Ruru FRSNZ and Linda Waimarie Nikora FRSNZ of Ngā Pae o te Māramatanga and is published by Otago University Press and can be purchased through their website. Ngā mihi maioha to our partners.
Source: Royal Society Te Apārangi