News
Published 30 November 2018
Ngā Pae o te Māramatanga chair concludes his term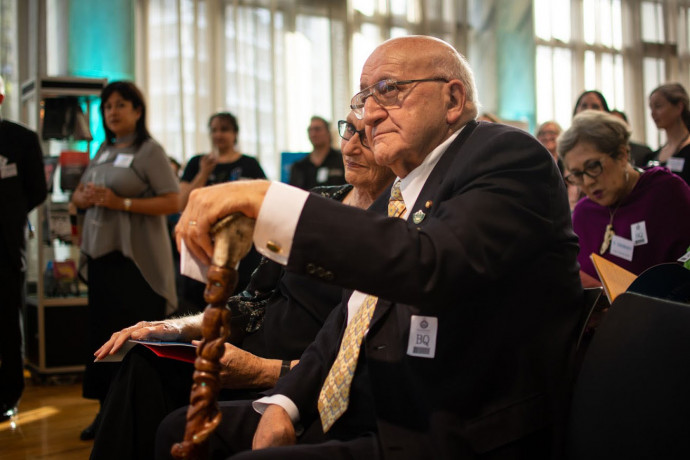 Sir Tīpene O'Regan at an event at parliament for Te Takarangi - a joint project between Ngā Pae o te Māramatanga and Royal Society Te Apārangi
Sir Tīpene O'Regan chaired his final Board meeting of Ngā Pae o te Māramatanga (NPM) last week. After 12 years of leading the Board and guiding NPM, Sir Tīpene will conclude his tenure at year end.
Sir Tīpene arrived at NPM in August 2006 having led the Ngāi Tahu Waitangi Tribunal and Treaty settlement claims process. He was an architect of the Treaty Fisheries Settlements, had been founding chair of Te Ohu Kaimoana, Assistant Vice Chancellor Māori at the University of Canterbury and a long serving Chair of the Ngāi Tahu Māori Trust Board.
His governance skills, his vast knowledge of mātauranga Māori and extensive academic qualifications, have all contributed to the flourishing of Ngā Pae o te Māramatanga at home and abroad. Sir Tīpene has astutely and wisely guided NPM and our work in the academy, and most importantly, across the many Māori, iwi and Indigenous communities that Māori researchers serve. His drive for meaningful and excellent research has inspired well over a decade of Maori researchers to connect with their communities and remain responsive and solution focused, and he has taken NPM's mission of "Māori leading New Zealand into the future" absolutely seriously.

Sir Tipene has led NPM through two successful competitive Centre of Research Excellence funding rounds with central government and has never failed to remind us all of our primary responsibility to ensure our research is making a positive difference in the lives of Māori and all New Zealanders, that we remain true to being uniquely Maori, and with a determination to be the best that we can.

NPM's Co-Directors Professor Linda Waimarie Nikora and Professor Jacinta Ruru have acknowledged Sir Tīpene's outstanding contribution to the success and evolution of Ngā Pae o te Māramatanga.

Waimarie comments "Tā Tīpene has provided loving, supportive and responsive leadership that inspires people to step up and aspire to greatness in whatever it is that we do. For us, that is excellent research to positively change lives and circumstances. As a scholar, director, iwi leader and savvy negotiator, one would be a fool to attempt to fool Tā Tīpene. Ka mau te wehi!"

Jacinta continues; "It has been an immense honour to be lead by the Ngāi Tahu rangatira, Tā Tīpene. With his ferocity of knowledge, leadership and scholarship and his prowess as storyteller extraordinare, he has steered us as our pou, and while this week was his last in the NPM Boardroom, we know he remains steadfastly connected to NPM for all time".
At this final Board meeting Sir Tīpene stated that it has been his pleasure and honour to sit as Board Chair of NPM over what has been a period of rapid evolution; "It has been a long haul to windward, but a very satisfying one!"

Sir Tīpene wishes NPM staff and researchers, the current Board and the new incoming Board Chair Kerensa Johnston (Ngāti Tama, Ngāruahine and Ngāti Whāwhakia), Chief Executive of Wakatū Incorporation, the very best as they continue to realise our vision of Māori leading New Zealand into the future.

Sir Tīpene O'Regan will return to Ōtautahi - Christchurch to focus on his own scholarly interests in the areas of cultural mapping, the traditional history and ethnology of Kāi Tahu and Te Waipounamu, and on cross-cultural relations and Indigenous customary rights. Ngā Pae o te Māramatanga acknowledges Tā Tīpene's enormous impact and contribution to the story and success of New Zealand's Māori Centre of Research Excellence.
Source: Ngā Pae O Te Māramatanga