News
Published 9 November 2023
NZJGG call for papers: special issue on rainfall-induced landscape change in the SW Pacific: landslides, floods, and multi-hazard inter-relationships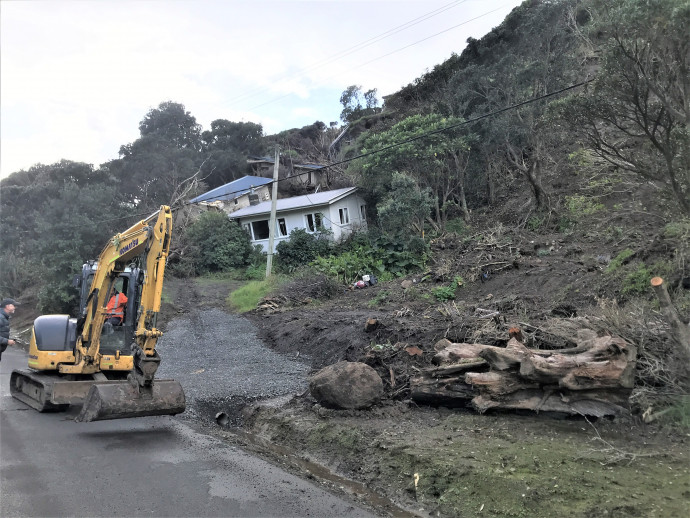 Rainfall-triggered landslides that have displaced houses at Karekare, Auckland. These landslides occurred in weathered Miocene Piha Formation rock and residual soils after Cyclone Gabrielle, February 2023. Image credit: Martin Brook
This special issue of the New Zealand Journal of Geology and Geophysics invites submissions with a focus primarily on understanding rainfall-induced hazards around the southwest Pacific.
Rainfall-induced landscape changes tend to be rapid, manifested by landslides and flooding hazards. Over the last decade, landslides and floods have caused numerous disasters globally, but particularly in the SW Pacific. Analysis of the rainfall conditions responsible for rapid landscape changes, identification and characterization of landslides triggered by severe rainfall, and delineation of the impacts of floods, are crucial for the design of mitigation and adaptation measures.
We intend to present a comprehensive collection of reviews and new case studies on the geomorphological and hydrometeorological processes underpinning infrastructure-damaging rainfall events in the SW Pacific. Contributions on geomorphology, engineering geology, and hydrological controls on landscape response, as well as planning and social sciences, are welcome. The special issue is intended to reflect the growing interest in, for example, anomalous rainfall events in the context of climate change, land use change, and multi-hazard interactions.
We invite manuscripts to explore rainfall-induced landslide and flood impacts across the SW Pacific, including Aotearoa New Zealand, Fiji, Samoa, Papua New Guinea, Australia, Solomon Islands, Vanuatu, New Caledonia, Timor-Leste.
The guest editorial team includes Prof. Bruce Malamud (Durham), Dr Arishma Ram (USP), Dr Tom Robinson (Canterbury), Dr Jon Tunnicliffe (Auckland), A/Prof. Martin Brook (Auckland).
If you're affiliated with any of the 42 universities in Australia and New Zealand, or a certain range of global institutions, you may publish your articles Open Access at no cost to yourself in the New Zealand Journal of Geology and Geophysics.

Submission Information
Please send a preliminary title, indicative author list and a short descriptive paragraph outlining the scope of your proposed manuscript to the Managing Guest Editors, Associate Professor Martin Brook at m.brook@auckland.ac.nz, by 16 February 2024.
Authors will be notified of the result and formally invited for full submission by 29 February 2024, while the final submission deadline is 31 August 2024, with the aim of getting the special issue formally published in early 2025. Individual articles will be published online with a DOI before they appear in the special issue.
Acceptance for publication will depend on the outcome of the normal peer review process and authors meeting critical time schedules. See Instructions for Authors on the journal homepage before making a formal submission to the New Zealand Journal of Geology and Geophysics if your EOI is selected.
Please direct any queries to the Managing Guest Editor.
About NZJGG
New Zealand Journal of Geology and Geophysics (NZJGG) is an international journal publishing original scientific papers on all aspects of geoscience. We welcome high-quality submissions from around the world that will make an impact on Earth Science research relevant to the Pacific Rim, Southern Ocean and Antarctica. Our current Impact Factor is 2.2, ranking us Q1 in Geology. (Clarivate Analytics, 2023).
Source: Royal Society Te Apārangi