News
Published 26 August 2021
NZJMFR Call for papers: Special issue on Wahapū: Transcending boundaries in Aotearoa New Zealand estuaries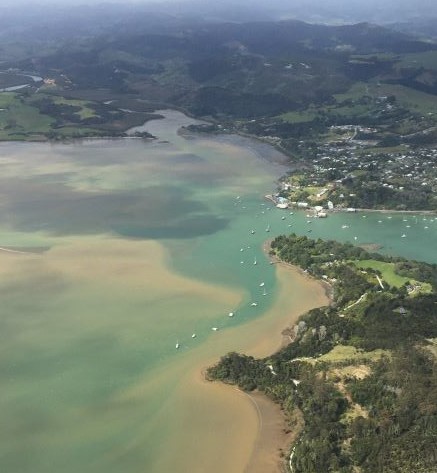 Mangonui Harbour, Northland (Photo credit: Drew Lohrer)
Wahapū: Transcending boundaries in Aotearoa New Zealand estuaries
A special issue of the New Zealand Journal of Marine and Freshwater Research (NZJMFR) is being planned to coincide with the 2022 Joint Conference of the New Zealand Marine Sciences (NZMSS) and Freshwater Sciences (NZFSS) Societies. We are inviting expressions of interest and calling for papers that focus on the integrated management of New Zealand's estuaries.
Estuaries are unique ecosystems where fresh and salt waters mix, joining land and sea at the coast. They provide a home for a huge diversity of flora and fauna and are a focal point for many communities throughout Aotearoa New Zealand.
This Special Issue seeks to highlight research or viewpoints that will help Aotearoa New Zealand transition toward an integrated approach to estuary management. This includes studies that cross boundaries between land, fresh water, estuaries and our oceans, integrate different worldviews, and consider estuary management from a ki uta ki tai (mountains to the sea) perspective. We invite submissions on a broad range of topics, including physical and biological processes, management and policy, and mātauranga Māori. To capture the rich and diverse knowledge and experiences in this field, we encourage submissions and commentary from multiple perspectives (e.g., researchers, communities, planners, policymakers, and resource managers). We seek a mix of research papers, short (< 5000 word) thematic and review-style manuscripts and submissions that provide opinion and share experiences in this field.
Papers may (but are not limited to) address one of more of the following topics: ki uta ki tai, mātauranga Māori, governance and policy, integrated catchment/estuarine management, limit setting, legacy effects, cumulative effects, stressor interactions, climate change, connections between freshwater and estuarine environments, and connections between estuaries and the ocean.
The guest editorial team includes Dana Clark (Cawthron Institute), Clive Howard-Williams FRSNZ (NIWA), Eleanor Gee (NIWA), Drew Lohrer (NIWA), Kura Paul-Burke (University of Waikato) and Joanne Clapcott (Cawthron Institute).
Submission information

Please send a preliminary title, list of authors and a short descriptive paragraph outlining the scope of your proposed manuscript the chief guest editor Dana Clark (dana.clark@cawthron.org.nz) by Thursday 7 October 2021.
The guest editorial team will decide on which manuscripts to invite for the Special Issue with authors notified of the decision by 31 October 2021. Note that an invitation to submit does not guarantee acceptance for publication; this will depend on the outcome of the normal peer review process and authors meeting critical time schedules. See Taylor & Francis Online for author instructions for the submission of articles to the New Zealand Journal of Marine and Freshwater Research.
The anticipated manuscript submission deadline is 31 January 2022 with the aim of formally publishing the Special Issue in December 2022.
Please direct any queries to Dana Clark or to the Publishing Team of Royal Society Te Apārangi at publish@royalsociety.org.nz.
Source: Royal Society Te Apārangi