News
Published 10 May 2017
Planktonauts training for Sea Cadet mission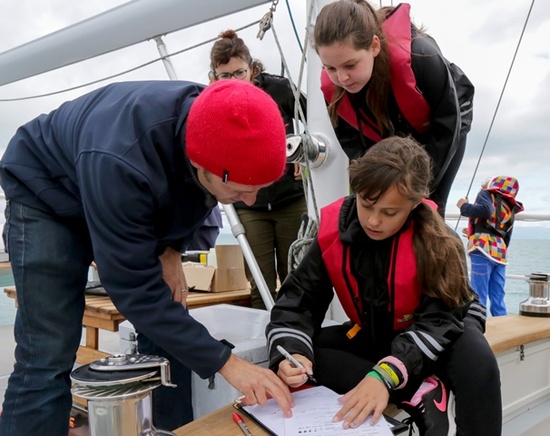 Eight sea cadets will leave Nelson in late June for a 10-day Plankton Planet mission to Fiji.
Nelson Marlborough Sea Cadet Corps Lieutenant Milo Coldren has been preparing for his aid mission to Fiji with planktonaut training from Cawthron Institute research scientist Dr Xavier Pochon. 
Dr Pochon joined Milo and his team of cadets in Nelson Harbour to share his plankton sample collection know-how and explain why it's important we learn more about these diverse organisms.
Oceanic plankton (small drifting plants and animals) play a major role in sustaining life on our planet. They generate half of the oxygen we breath, help regulate our climate, and provide a key indicator of climate change. Plankton are also the basis of the entire ocean's food chain.
Plankton Planet is an international participative science programme that seeks greater understanding about plankton by equipping citizen sailors (the planktonauts) with a user-friendly sampling toolkit able to easily collect samples while navigating the high seas.
The science workshop will run the first week of July in Auckland and is supported by New Zealand Royal Society, Cawthron Institute, Sir Peter Blake Trust, and Auckland Maritime Museum.
- See more at:
http://www.cawthron.org.nz/coastal-freshwater/news/2017/planktonauts-training-sea-cadet-mission/#sthash.T324Qu7f.dpuf
http://www.cawthron.org.nz/coastal-freshwater/news/2017/planktonauts-training-sea-cadet-mission/#sthash.T324Qu7f.dpuf
Source: Royal Society Te Apārangi