News
Published 7 September 2023
Plant-based cheese, functional sticking plasters, and insect bioconversion of sewage the winning topics of Falling Walls Lab New Zealand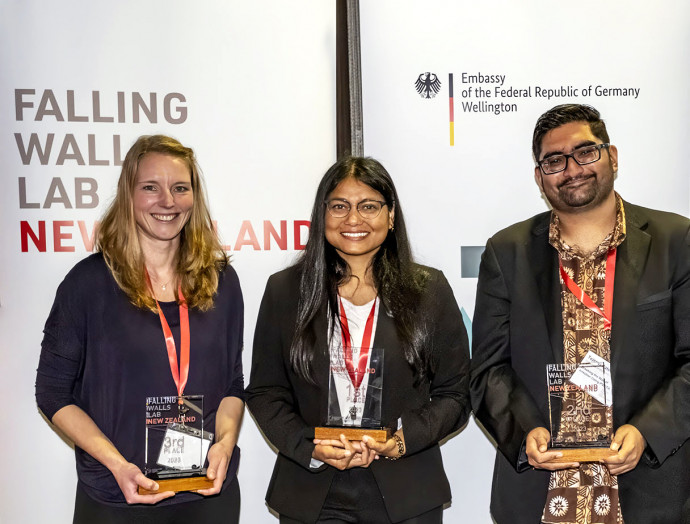 From left: Dr Kristin Bohm, Dr Debashree Roy and Tejesvi Patel
Dr Debashree Roy from the Riddet Institute at Massey University won the Falling Walls Lab Aotearoa New Zealand competition with a breakthrough technology for creating plant-based cheeses that have nutritional and sensory properties like dairy cheeses.

Debashree was selected from twenty-two participants from around Aotearoa New Zealand and the Pacific Island Nations who pitched their innovative breakthrough ideas at the Falling Walls Lab New Zealand event held by Royal Society Te Apārangi this week, with support from the German Embassy in Wellington, the Catalyst: Leaders Fund from the Ministry of Business, Innovation and Employment, and EURAXESS Australia & New Zealand.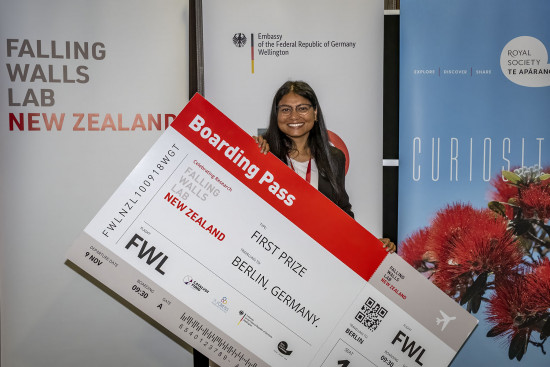 Debashree, a food technologist, explained that there is a large and growing worldwide demand for plant-based cheeses but currently these vegan products tend to consist of a starch-fat matrix and have little or no protein, in contrast with dairy cheeses. Given that protein is an important part of a nutritious diet, and that cheese is used to impart a lot of flavour and texture in dishes, she aimed to make a plant-based cheese that is not only nutritious and functional, but also delicious. "Imagine a world where the irresistible pleasure of cheese is not limited by dietary choices," Debashree said.
Reducing the price of plant-based cheeses was another goal of the project.
"Our novel patented technology is sustainable and easily scalable," she said. The technology can be used to make a range of different cheese types and can be made from a variety of plant-based proteins such as from pea or soy.
Preliminary testing showed that consumers liked the taste and sensory properties of the cheese. Unfortunately, safety regulations meant she couldn't let the eager audience sample her Chedda-V, but she could show a sample. When asked by a jury member if she likes the taste of it, she replied, "Yes, I love it!"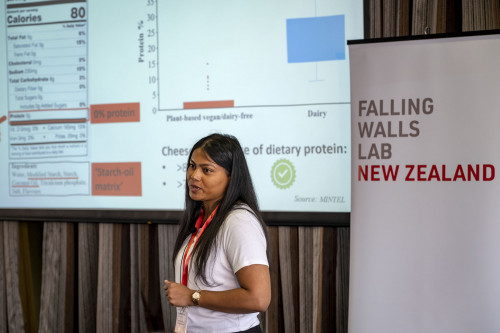 In awarding her first place, Jury Chair Professor Phil Lester said the project was an innovative "big breakthrough" with a large potential for global impact and that Debashree had delivered an engaging presentation.
Through winning the Lab, Debashree has won the chance to represent the region and compete at the Falling Walls Lab Global Finale in Berlin in November. As part of her prize, EURAXESS Australia & New Zealand will offer her mentoring and science communication training, to make sure she will get the most of out her trip to the Falling Walls Lab and Science Summit in Berlin.
---
Second place was awarded to Tejesvi Patel from the University of the South Pacific in Fiji. His breakthrough is in creating a biodegradable, biocompatible sticking plaster that has added functionality to treat skin infections.
Tejesvi said that worldwide there is a substantial increase in the number of microbial infections, especially skin infections. He said this was due to "rising global temperatures and the constant misuse of medication".
"Microbial build-up on wound sites impedes the natural healing process; it slows down healing," he said.
Rather than needing to reapply a topical ointment or take tablets to reduce microbial build-up and infection at wound sites, the topical patches Tejesvi is developing would both cover the skin lesion and administer an antimicrobial and antifungal treatment at the same time.
The patches are made using PVP, a synthetic biodegradable polymer that is used in products such as contact lenses and capsule coatings. The PVP is formed into a hydrogel by crosslinking with tannic acid and infused with nystatin (an antifungal agent). Tannic acid is a natural polyphenol found in plant material such as bark and tea leaves, which is antimicrobial, anti-inflammatory, and can stop bleeding, Tejesvi said.
In addition, the biodegradable nature of the patch means people can protect themselves from infection and speed healing without creating more plastic waste.
He said the patch would be particularly useful for those with diabetes since this condition slows wound healing.
---
Third place in the competition was awarded to Dr Kristin Bohm from the Institute of Environmental Science and Research Ltd (ESR) whose pitch was about 'Breaking the Wall of Wasting our Waste'.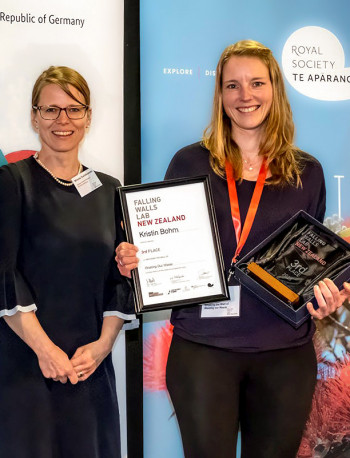 "Do you know how much poo a human produces a year?" Kristin asked to begin her presentation. "Almost as much as a panda bear weighs, which is approximately 140kg!"
That's a lot of waste to deal with and, unfortunately, after treatment in sewerage plants, much of this waste around the world is either discharged to the ocean, burned, or sent to landfill where it contributes to greenhouse gas emissions.
Kristin has been working on a process that uses Black Soldier Flies bioconversion of human waste. Kristin's research has shown that the larvae of the fly can reduce the mass of the waste by 40% in just 2 weeks, which is 200-times faster than natural decomposition in landfills and 10-times faster than composting.
Aiming for a circular economy process where nothing is wasted, the larvae of the fly turn the waste into a high-value protein and fat-rich biomass. This could be turned into a range of products for agricultural or other industries. The oil from the biomass is similar to plant-based oils and has been found to have antimicrobial properties, so could even be made into functional cosmetics.
"Would you have imagined that you could make soap from poo?" Kristin asked, holding up a soap sample made from the biomass.
The larvae could also be extracted to make a high-protein animal feed.
Even better, the remaining waste after the bioconversion contains fewer pathogens than at the beginning, so it could potentially be used as an agricultural fertiliser, thereby reducing waste further.
---
Royal Society Te Apārangi President Dr Brent Clothier FRSNZ said the Society was proud to host the Falling Walls Lab Aotearoa New Zealand. The event offers a fantastic opportunity for researchers from New Zealand and the Pacific Island Nations to network, share their innovative ideas, and inspire others.
"Our Falling Walls association began with the German Embassy back in 2016. We've had a few hiccups of late due to COVID but it's great to be back here again face-to-face in 2023," Brent said.
On behalf of the German Embassy in Wellington, Ms Winnie Switakowski, Deputy Head of Mission, said the Falling Walls initiative got its name from the collapse of the Berlin Wall in 1989.
She told the participants that their ideas had the potential to break through walls.
"In light of over four decades of scientific collaboration between Germany and New Zealand, your diverse research contributes to shaping the world of tomorrow.
"It is universally understood in Germany that walls can never be the path forward, whereas fallen walls pave the way for creativity, innovation, and liberty.
"It's exciting that one of the projects presented here today might actually change the world one day," she said.
A special thank you to the expert jury who had the difficult task of selecting winners:
Professor Phil Lester, Te Herenga Waka—Victoria University of Wellington (Jury Chair)
Associate Professor Riz Firestone, Massey University
Associate Professor Alex Gavryushkin, University of Canterbury
Veronika Meduna, The Conversation
Monique Surges, German-New Zealand Chamber of Commerce.
Unfortunately, jury member Chris Karamea Insley, from Te Arawa Fisheries and Te Taumata, was unable to attend the event.
The 2023 Falling Walls Lab Aotearoa New Zealand presentations will be available shortly on YouTube.

Source: Royal Society Te Apārangi