News
Published 23 September 2021
Robotic capsule for gut sampling wins Falling Walls Lab New Zealand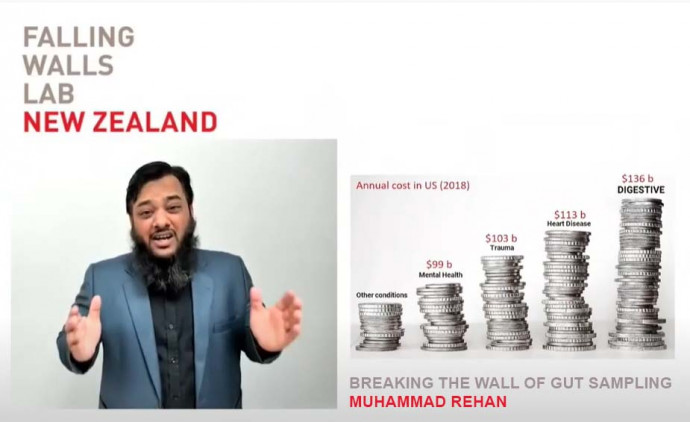 Muhammad Rehan from Massey University won the Falling Walls Lab New Zealand contest with his robotic capsule that aims to break down the wall of gut sampling.
Rehan was selected from applicants from New Zealand who presented their innovative ideas at an online Falling Walls Lab New Zealand event held by Royal Society Te Apārangi this week, with support from German Embassy in Wellington, the Ministry of Business, Innovation and Employment Catalyst: Leaders Fund and EURAXESS Australia & New Zealand.
An engineering graduate originally from Pakistan, Rehan is pursuing a PhD in microrobotics at Massey University. He is working on developing a robotic capsule which has the potential to take samples of microorganisms or digestive fluids along the full length of the gut.
As Rehan pointed out in his 3-minute talk, data from the US shows that more health dollars are spent on gut-related issues than heart disease or trauma, for instance. Each year 8 million people die worldwide due to gut-related problems. Gut-related problems include cancer, coeliac disease, crohn's disease, irritable bowel syndrome, to name a few. Since the gut can regulate stress, anxiety and mood, gut health has an impact on mental health also. "Early diagnosis of gut-related problems is important, but we don't have the tools to fully diagnose the gut," Rehan explains. The current proxy for gut sampling is faecal samples. These are easy to obtain and non-invasive but they can't give you information about a specific location along the 9 metres of gastrointestinal tract. The solution to this is his 'robotic capsule'. The size of a large capsule, it can be swallowed and then with its spring loaded and sealing mechanism, it can open to take a sample at a specific location in the gut and then seal closed, so as not to be contaminated with material from lower in the tract before it is passed out. Rehan's team is the first in the world to collect a microbiota sample from a gut lining. They have been testing the robotic capsule in a living intestinal model of three animal species. Currently, the capsule can be followed in the intestinal tract by imaging and remotely controlled to take a sample. It is also possible that the change of pH from the stomach to the small intestine could trigger it to take a sample. Another option is for the capsule to open at a specific time. In addition to Rehan winning first place from the Kaiwhakawā Jury, chaired by Professor Kathryn McPherson, Deputy Vice-Chancellor, Auckland University of Technology, Rehan also won the people's choice award.
Rehan receives the chance to compete at the Falling Walls Lab finale hosted by Berlin in November (likely by video link) and attend the Falling Walls Conference. Royal Society Te Apārangi's partner EURAXESS will provide a high-quality online science communication training to Rehan as the winner, led by European experts including the opportunity to have one-on-one consultation with the experts. This training will focus on equipping the winner with essential communication skills which are directly applicable to the effective communication of their innovative idea in a virtual setting.
Second place in the Falling Walls Lab New Zealand competition went to Dr Nick Smith, a Research Officer at Riddet Institute, New Zealand's Centre of Research Excellence in food science and nutrition, hosted by Massey University. Nick has a background in mathematical modelling of complex systems and he is currently working on developing the DELTA Model: a globally applicable tool to investigate sustainable nutrient production for human consumption. His goal is to understand what the future food system could look like in order to deliver nutrition for all without compromising sustainability. Interestingly, he says that modelling has already shown that fixing the issue of food waste won't solve global nutritional deficiencies, because the foods we waste most of don't contain the nutrients we are lacking. The DELTA Model allows people to test out different scenarios themselves, such as changing production to see how this will impact on global nutrition. "It's an exploration tool so that we can all explore how the global food system should work to be sustainable nutritionally, economically and environmentally."
Third place in the competition went to Jessica Fitzjohn, a PhD candidate in Mechanical Engineering at the University of Canterbury. She is seeking to break the wall of breast screening inequity by developing a new tool for breast cancer diagnosis. She argues that mammograms— the current method of breast screening—is inequitable because they are not offered to women of all ages due to cost and risks from radiation exposure, are not as readily available to people living outside main centres and are not good at detecting cancer in the 43-50% of women who have dense breast tissue. They are also described as painful by many women. Currently free mammograms are offered to women aged 45-69 in New Zealand but only 67% of women in that age group have them. But a fifth of breast cancer occur in those aged under 45. Jessica is working on a new screening technique using Digital Image Elasto Tomography and surface motion data of the breast. This technique shows promise because tumours can be up to ten times as stiff as healthy breast tissue and so vibrating and imaging the breast can allow for cancer detection. The method would be less painful, lower cost, could be automated so would not require skilled staff and would not come with radiation risks so could be offered to younger women.
> Watch Jessica's presentation

Royal Society Te Apārangi President Dr Brent Clothier FRSNZ said the Society was extremely pleased to be able to host Falling Walls Lab New Zealand for the third time after it had to be cancelled in 2020 due to the COVID-19 pandemic. He offered thanks to the German Embassy in Wellington, the Ministry of Business, Innovation and Employment Catalyst: Leaders Fund and EURAXESS Australia & New Zealand for their support for the event. He also thanked Kathryn McPherson and her team of jury members.
The other jury members were Chris Karamea Insley, Chair and Executive Director at Te Arawa Fisheries Group and Chair of Te Taumata advancing Maori business interests in to all Free Trade Agreements and a Member of the APEC2021 Business Leadership Group; Professor Phil Lester, Insect Ecology, School of Biological Sciences, Te Herenga Waka — Victoria University of Wellington, Veronika Meduna, New Zealand Editor for The Conversation; and Monique Surges, CEO German-New Zealand Chamber of Commerce Inc.
Falling Walls Labs are held at locations across the globe and the winners from each Lab are invited to the Falling Walls Lab finale in Berlin in November and attend the Falling Walls Conference – the International Conference on Future Breakthroughs in Science and Society.
The global event is run by The Falling Walls Foundation, a non-profit organisation in Berlin, dedicated to the support of science and the humanities. It was established in 2009, 20 years after the fall of the Berlin Wall. At its heart is the question 'Which are the next walls to fall?' as a result of scientific, technological, economic and sociological breakthroughs.
Source: Royal Society Te Apārangi