News
Published 12 December 2017
Science Teaching Leadership Programme | 4th year running in 2018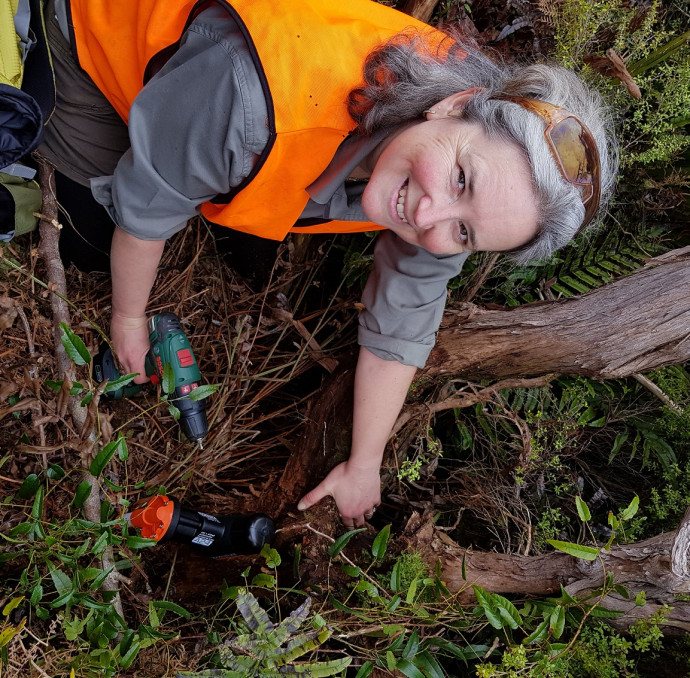 Amy Christie, a teacher at Gore High School, putting up GoodNature traps for the Omaui Reserve Restoration Project in Bluff
This year 36 teachers were placed for six months with Universities, Councils and Science Organisations. The Science Teaching Leadership Programme is now seeking applications from schools and scientific organisations for 2018 and 2019.
The Science Teaching Leadership Programme is entering its 4th year in 2018. After 20 years of the Teacher Fellowship Scheme, in 2015 the Ministry of Business, Innovation and Employment and the Ministry of Education, in consultation with the Office of the Prime Minister's Chief Science Advisor, developed the Science in Society strategic plan "A Nation of Curious Minds". The Government recognises that teaching science to Years 1 – 10 needs an increased focus. The Science Teaching Leadership Programme reflects this change. The programme has continued to work with schools and science organisations across New Zealand since then, and is looking for applications from schools and science organisations for 2018 and 2019, particularly in the Canterbury/West Coast area.
2017 has seen 36 teachers placed for six months with the following organisations:
Universities:
Massey University (Institute of Agriculture & Environment, Riddet Institute, Hopkirk Research Institute and School of Sport, Exercise & Nutrition)
Victoria University of Wellington (Department of Earth Science)
University of Otago (Department of Pathology and Molecular Medicine and Department of Geology)
University of Auckland (School of Environment)
University of Waikato (Coastal Marine Field Station)
Councils:
Bay of Plenty Regional Council
Horizon Regional Council
Tasman District Council
Science Organisations:
New Zealand Institute of Plant and Food Research (Riwaka, Blenheim & Clyde)
NIWA Science (Wellington)
Auckland Bioengineering Institute
Wildland Consultants Ltd (Auckland)
Landcare Research (Palmerston, Lincoln & Auckland)
Cawthorn Institute
Zelam Ltd
Kiwi Encounter
Rainbow Springs
Department of Conservation (Southland, Rakiura, Wanaka, Palmerston North)
Wildlife Management International
Thank you to all those who have been a part of the Science Teaching Leadership Programme in 2017; we look forward to working with you again in the coming years.
If you are interested in getting involved or would like more information, please email stlp@royalsociety.org.nz or call 04 472 7421.
Source: Royal Society Te Apārangi