News
Published 8 February 2018
Science Teaching Leadership Programme induction symposium off to a positive start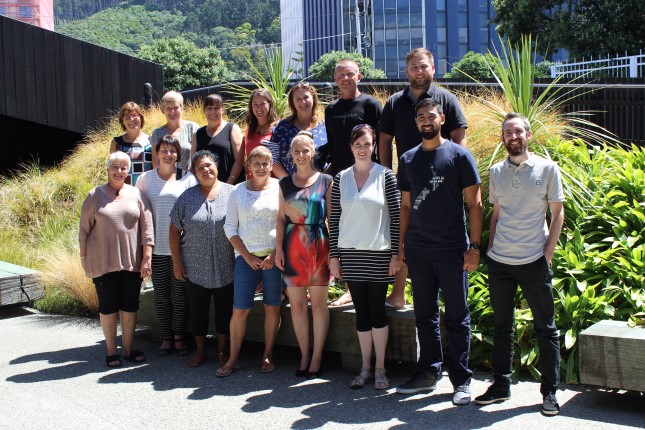 The latest teachers starting the Science Teaching Leadership Programme
A new group of participant teachers, school representatives and host organisations are gathering at Royal Society Te Apārangi this week to begin working together to explore their respective roles within the kaupapa of the programme.
Previous participant teachers will remember the feelings they experienced when starting phase one of the STLP – working in a completely new environment surrounded by all new faces; the thrill and excitement, but also the nerves and the challenge in temporarily leaving their schools. It is the same for the latest teachers who have just embarked on the programme for their schools – after securing hosts for each of them they are now in the swing of things and have officially began the STLP journey to become confident and capable science leaders.
The STLP programme is run in two phases. During phase one, participant teachers take leave from their schools to work with science researchers at host organisations, develop their science curriculum knowledge and undertake extensive leadership training. In phase two, participant teachers return to school to lead eighteen months of intensive science development within their school and community.
The participant teachers starting the programme this week with their schools and their host science organisations are:
Bridget Bear, Cockle Bay School - Landcare Research
Roger Colquhoun, Selwyn Ridge School - University of Waikato
Christopher Dixon, Maungatapu School - University of Waikato
Helen Armstrong, East Tamaki School - University of Auckland
Sophia Douglas, Terrace End School - Massey University
Karyn Gordon, Freyberg High School - Massey University
Joan Makisi, Avalon Intermediate - Zealandia
Sheree McNaught, Arataki School - Ballance Agri-Nutrients Ltd
Sarah Moore, Hikurangi School - Northland Regional Council
Aashif Sacha, South Wellington Intermediate - NIWA
Kerri Satherley, Russell Street School - Landcare Research
Mandy Veza, Roslyn School - Massey University
Meredith Wilson, Ruapehu College - Ngati Rangi Trust
Nick Wilson, Ross Intermediate - Massey University
Fiona Waugh, Opunake School - Wild for Taranaki
More information on each participant teacher will be on our website in the next few weeks, but in the meantime you can browse some of the profiles of teachers who are already taking part in the STLP programme.
If you belong to a science organisation and would like to become involved as a host in the STLP contact Jenn Corbitt or Janine Bidmead
Apply for STLP
Applications are open for the next round of the Science Teaching Leadership Programme (STLP) to start term 3 2018, term 1 2019 or term 3 2019 (the latter date is subject to government funding). Applications are open until Thursday 22 March. Visit the STLP webpage to learn more.
Source: Royal Society Te Apārangi