News
Published 13 June 2023
NZJMFR call for papers: special issue on Seaweed aquaculture in New Zealand: Current advances, benefits, challenges, and perspectives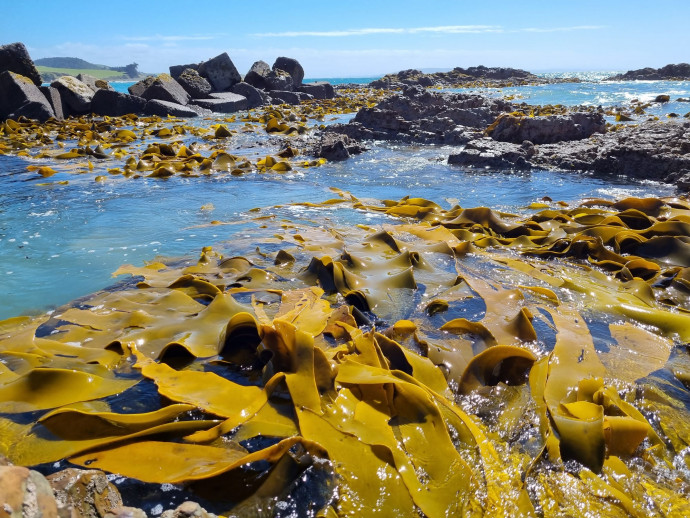 Image credit: Rossella Nicolai
We are launching a special issue titled 'Seaweed aquaculture in New Zealand: current advances, benefits, challenges and perspectives' for publication in the New Zealand Journal of Marine and Freshwater Research (NZJMFR).
Seaweed aquaculture is a rapidly growing industry globally that can provide numerous benefits to communities, the environment, and the economy. We are inviting expressions of interest and calling for papers that focus on seaweed aquaculture in New Zealand.
This Special Issue for publication in the New Zealand Journal of Marine and Freshwater Research seeks to highlight research or viewpoints that will help Aotearoa New Zealand transition toward a successful and well-established seaweed aquaculture sector.
We invite submissions on a broad range of topics including perspective pieces on challenges and opportunities of seaweed farming in NZ, current advances in the research and development of technologies and seaweed cultivation protocols or products, application of seaweed aquaculture for restorative purposes, and case studies around seaweed aquaculture on land and at sea. To capture the rich and diverse knowledge and experiences in this field, we encourage submissions and commentary from multiple perspectives (e.g., researchers, communities, planners, policymakers, companies, and resource managers). We seek a mix of research papers, short (< 5,000 word) thematic and review-style manuscripts and submissions that provide perspectives and share experiences in this field.
Papers may (but are not limited to) address one or more of the following topics: seaweed aquaculture in the nursery, on land and at sea, processing of harvested biomass, environmental, social and economic benefits of seaweed aquaculture, applications of farmed biomass, mātauranga Māori, governance and policy, market opportunities, etc.
The guest editorial team includes Dr. Cecilia Biancacci (Cawthron), Assoc. Prof. Marie Magnusson (Waikato), Prof. Andrew Jeffs (Auckland), and Dr. David Taylor (Aquaculture New Zealand).
Submission information
Please submit a preliminary title, a list of authors, and a concise descriptive paragraph/abstract that outlines the scope of your proposed manuscript to Dr. Cecilia Biancacci (cecilia.biancacci@cawthron.org.nz), the Managing Guest Editor, by 31 Hereturikōkā August 2023, or until issue is filled.
The guest editorial team will decide on which manuscripts to invite for the Special Issue with authors notified of the decision no later than 10 days after the submission of the EOI.
The anticipated manuscript submission deadline is 31 Kohitātea January 2024 with the aim of formally publishing the Special Issue in the fourth quarter of 2024. Individual articles will be published online first with a DOI before it appears in the special issue.
Authors affiliated with any of the 42 universities in Australia and New Zealand may be eligible to publish their articles Open Access at no cost in New Zealand Journal of Marine and Freshwater Research. Find out if you're eligible. There are no page charges or publication fees for publishing under the traditional subscription-based model.
Note that an invitation to submit does not guarantee acceptance for publication; this will depend on the outcome of the normal peer review process and authors meeting critical time schedules. See Instructions for Authors on the journal homepage before making a formal submission to the New Zealand Journal of Marine and Freshwater Research if your EOI is selected.
Please direct any queries to Cecilia Biancacci or to the Publishing Team of Royal Society Te Apārangi.
Source: Royal Society Te Apārangi